Econo-Shopper Mesh Bag, II
This bag is done from basically the same schematics, with a more open mesh pattern, and in a bigger size. I made the edging and handles from sc instead of hdc on this one - I haven't decided which I like more, but the difference between the two is slim, anyways. I used
Aunt Lydia's Denim Cotton
and a size "J"
TOTC hook
for this one. I've never worked with this yarn before and I really like it. It's a nice, smooth blend.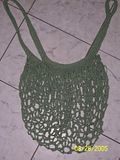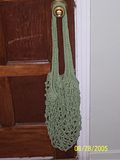 Here it is all loaded up with groceries: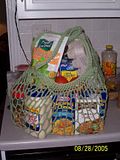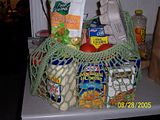 And a picture of all the groceries it really did hold - it was almost too heavy for me to carry!!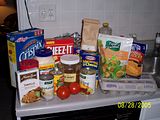 For the record, that's:
- One regular sized box of Crispix
- One regular sized box of Cheez-Its [in a yukky flavor]
- One giant sized container of Miracle Whip, full
- One peanut butter jar half-full of bulk mixed nuts
- One box of taboule mix
- One can of potatoes
- One can of sliced peaches
- One can of cherry pie filling
- One 3/4 full 5lb jar of honey
- Two tomatoes
- Three boxes of Mac & Cheese
- A bag of bulk tea
- A bag of croutons
- A bag of cornbread mix
- A carton of 18 eggs
Basically, a whole shitload of groceries.
Hopefully I'll be able to get the pattern/schematics written up soon so I can get them tested and up here.
'Night!