August...
... is my very favorite month. Could it be that my birthday is in a week? Yes, it could. It also has something do with intensely hot days, being a Leo, and bubblegumn popsicles. Not to mention savoring the last week before school... I'm happy August is here.
I got back from up north on Saturday evening after an eventful trip... The week spent there was great. We had a nice mix of weather - beautiful days for the lake, and some overcast ones for cabin maintenence. We did quite a bit of fishing, and also ventured into both nearby "big" towns, Gaylord 30 mintues west and Alpena 30 minutes east. We also took a nice stroll through the Jordan River Valley, through the
Pinney Bridge campgrounds.
In that same valley is a
MI state fish hatchery
- very cool, I've never seen anything like it.
I do have a ton of pictures - I'll put a few up here but if anyone wants to see more, drop me a comment and I can link to an album.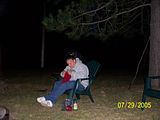 Me crocheting by the fire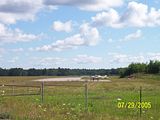 A plane preparing to take off at the airport across the street from my cabin.


My mom, dad, and Kris standing in front of the cabin.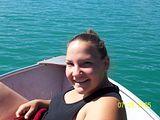 Me crocheting on the boat while Kris and my dad fish Long Lake.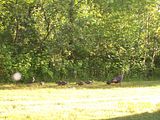 A mama turkey with her babies. Our yard is an old turkey run.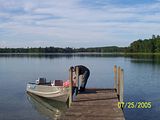 Kris getting the boat ready to go out on Clear Lake.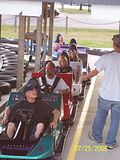 Go Cart racing in Alpena.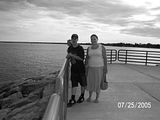 Kris and I on a pier overlooking Lake Huron, also in Alpena.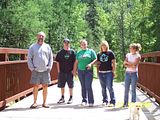 The group, minus my mom, at the Pinney Bridge.


One of the tubs at the fish hatchery, full of lake trout.

After enjoying our wonderful trip, we packed up all our crap up into the two vehicles and left... Kris and I with my dad, Lauren and her friend with my mom... and we weren't an hour out of town when the "Check engine light" came on the in the van. Kris and my dad are both car guys, and figuring it was a misfire or something, they ignore it... for about 20 mintues... until all of a sudden the van sounds like it's going to blow up. So, we pull over, the boys are looking under the hood, the whole parking lots reeks like burnt oil and rubber... and they conclude we have overheated. So, my mom goes to buy antifreeze ($12 freaking dollars for a jug of antifreeze up there!! Absurd!) and while she's gone, my dad and Kris discover a piece of cardboard they'd placed in front of the radiator in the winter to get heat into the van. Well, in the summer, that piece of cardboard - not good - and even though they took it out, the van had already gotten way too hot... So it got us home, but is still not running well at all. That was the only bad thing about the trip!
In other news - the Secret Sistah swap is up and running - I'm totally thrilled about my partner, I can't wait to start shopping for her... Everyone else seems to be pretty excited too, which is cool. I'm just so glad that it ended up coming together!!
I also need to find a new job, badly. Beofre vacation I got into an altercation with one of the managers and was sent home early... Details aren't neccessary because it's not worth giving energy to this girl - suffice it to say she picked a fight and she won. My general manager and none of my co-workers seem to want to stand behind me on this, and I'm realizing that I have to get out - soon! I've made friends with alot of the cashiers, and that's a problem - when a job becomes more than business. So in interest of friendships and self-preservation, I have to get a new job, and quickly!! I need something with higher part time hours, hopefully something I can stay in for awhile, I'm trying to stay away from retail. If anyone knows of any good jobs in the Northern Detroit suburbs, drop me a line!! I *hate* job hunting, and it's hard to get motivated to go out an apply when I *do* still have a job. I just don't want it!
School - that's another stressor - that I don't want to even think about! The closest counselor's appointment I could get was August freaken 10th... and classes are already almost filled up, I hate to think what they'll be by then. I don't even know how I'm going to *pay* for my classes, anyways! Yuk. I just keep ignoring it, hoping it will all straighten itself out. Fat chance!
I gotta go get ready for work...