Guacamole: A "Pictorial"
I've been inspired, and driven to my kitchen for munchies!, many times over by a lot of the blogs I read, notably
Jessica
,
Deneen
, and
Cordelia
. However, I always appreciate when I stumble on a bit of foody goodness, being that I am not culinarily inclined. [In fact, it was only a few weeks ago when reading
Wendy's blog
that I discovered fried rice has scrambled eggs in it. Doh!!]
So, most often it for my benefit that I am not in the cooking position, and for your benefit that I do not try to share my "knowledge." However, there are a few dishes that I can prepare, and prepare well - guacamole's one of these, cuz there's not much you can do to mess it up, I guess. Follows is my Illustrated Guide to Making Guacamole:
Natalie's "Throw it all in There" Guacamole
2 ripe [soft when you squeeze 'em] avocados
Lemon or lime juice, fresh or from concentrate, it doesn't matter
1 Generous Scoop Salad Dressing, I prefer Miracle Whip but you could
Vegenaise
if you want to go veg. Or, you could totally omit it, too, for a slightly "blander" guac.
Tabasco Sauce, or favortie hot sauce, to taste
Dash of Worcestershire sauce, optional. I used Lea & Perrins, you don't have to use if you don't want.
1 big green onion, sliced thinly
A Couple shakes of Garlic Pepper
Fresh Ground Pepper and Sea Salt, to taste
Tomatoes and cilantro to garnish, if desired
First,
halve the avocados and remove the pits
.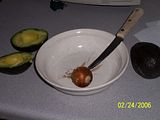 Then, scrape out the flesh and chop it up with the spoon a little. Don't mash it - we'll do that later and you don't want to end up with baby-food.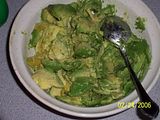 Give the avocado a good dousing of lemon or lime juice. This will help keep the flesh from turning brown, while adding flavor.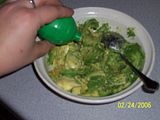 Plop the spoonful of dressing on top. Don't mix yet - we'll mix at the end.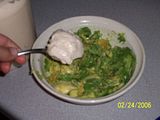 Add some hot sauce: a lot or a little, whatevah. Sprinkle on some Worcestershire.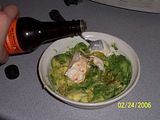 Add the sliced green onion, then give it all a few healthy shakes of Garlic Papper. [Notice the economy sized bottle? We like Garlic Pepper. :]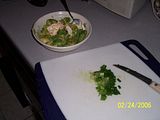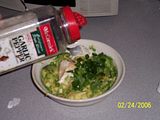 Finally, flavor with sea salt and fresh groud pepper to taste.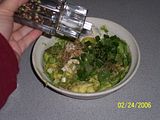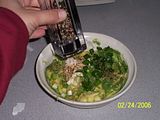 Now you can mix! Give it all a good stirring, making sure to mash any huge chunks of avocado. Top with tomatoes, if you're using them; I like to keep them on top cuz if you stir them in they get icky looking. Garnish with fresh cilantro, if you've got it, [which I didn't, as you can see]. Serve with your favorite tortilla chips as a dip or use as a spread on sandwiches.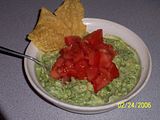 Enjoy!