The Unveiling...
This is a design that I've been wanting to create for a while, but wasn't sure just how to go about doing it. When I saw the shopping bag in the 2006 Calendar, it was another version of what I didn't want. So, I finally got my butt into designer mode and tackled the project. I'm pretty pleased with the finished product.
Ladies and Gentlemen... The Econo-Shopper Mesh Bag I!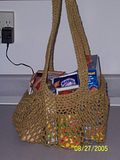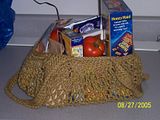 Since this bag is not worked in the round [what I *didn't* want] there's no unsightly, unstretchy areas on the bottom. This is the smaller version, I have the big one in the works right now. But look at all the groceries it holds!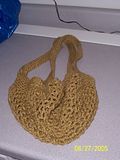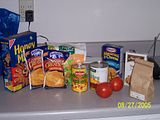 If you're interested, that's:
- One box of graham sticks
- Two bags of cornbread mix
- One bag of croutons
- One can of mixed fruit
- One can of pie filling
- One box of mac & cheese
- One box of taboule mix
- One bag of bulk tea
- Two tomatoes
This bag was worked up in a hemp/wool blend, which I realize may not be the most ideal fiber... The next one will be in
Aunt Lydia's Denim Cotton
and some of the the
hemp I mentioned in my last post
will probably become at least one of these.
There are two different honeycomb mesh patterns, one is more open and I'll use that for the bigger bag. [duh.] I need some pattern testers... the pattern is pretty simple and really more schematics than anything, you can use it to make any size bag you want... If it works out okay for everyone, than I'd like to submit it for the
2007 Pattern a Day calendar
.
I made this bag to be like the
ones we sell at my work
, and although it's not exact [those bags have woven handles] it's close - it's nice and stretchy in the way I wanted it to be - and I like it. :)