Turtles on Parade...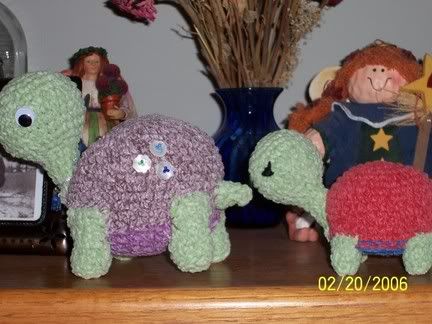 I made the baby one for Kris's neice, but she won't get it til we go for his nephew's birthday, in a few weeks. I love these; so quick and so cute. The pattern's simple, too, so after a bit you get it down pat without having to check back every two seconds.
That's all I have to show off that I made - the rest is what I bought. Yes, lately, the amount of spending has been inversly proportional to the amount of actual producing... but like I said, it's shop therapy. I'm very serious about it.
Anywho - follows are my spoils [and commentary] in order I received them: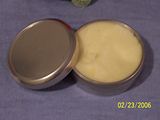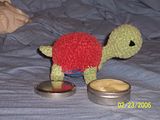 On Tuesday when I got home from work, I had a little package from
Deneen
waiting for me in my mailbox - a 2oz tin of her Whipped Shea Buttah!! Here it is next to my small turtle for size comparison. [And also to show off my turtle some more.] After reading all the rave reviews circulating around blogland, I had to try it out for myself, of course. So, I ordered some in the ylang-ylang scent, and I am a believer!! This stuff is so great, it literally melts into your skin, and it's so softly perfumed, very light. My dad has been using it on his dry patches, even, although he says he;d prefer it unscented.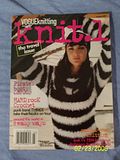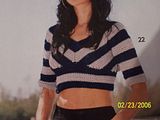 That same day, I somehow managed to cajole Kris into going to JoAnns with me... I didn't end up getting what I wanted, but I did pick up the new copy of Knit.1. The highlight of the mag is this cute little crop top - I like it alot. If I ever were to actually make it, I would lengthen it, or lengthen the chevron part... There are some other cute patterns, too, though. More knit than crochet, but what else is new?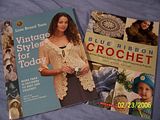 These two I ordered off Amazon, and they showed up on Wednesday. Truth be told, I'm not thrilled with either, but I'm pleased enough with both to not send them back. The best piece in Lion Brand Vinateg Styles is the cover cardi, in my opinion, but there are a few other decent patterns. Blue Ribbon Crochet doesn't have anything that screams out "make me" but it has many good patterns that I could see making for gifts... Lots of nice doilies if I ever get more into thread than snowflakes...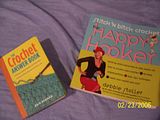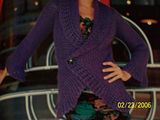 These suckers came this morning and I actually skipped my afternoon class to stay home and look them over. The Crochet Answer Book is full of a lot of info I already know, but it is handy to have it all in one place, and I like the format. It's also got the math for sleeve/neck shaping, and things I like to not think hard about. All in all, I'm happy with The Happy Hooker. It wasn't earth shattering, but there are several nice, makeable patterns... and the instructions are pretty good for someone who'd need them. I like the variety of patterns, too. I want to make this sweater right away; it's like the one
Jessi
made awhile back. I love it.
Okay, sorry to show and go but Kris is rushing me out the door! Hugs!