A shitty excuse for a post...
but I saw this on
Wendy's
blog and
I'd still like to know what you think about me
.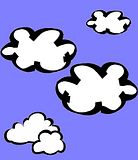 I haven't really been crocheting, even though the Olympics are going on - I had to do a last minute switch in my project, since I couldn't find enough Amore in one color to make a sweater. Instead, I started a graphghan with this could pic, and it's such a pain in the ass I just can't get motivated on it. It would look awesome in my room, but I feel like maybe I should've started with a pillow...
Once I get my groove back I'll be here more. It's like I create this pressure for myself; after going so long without blogging, I feel like when I do it should be worthwhile. But I haven't had anything worthwhile to say, so I haven't been bloggging... It's a vicious cycle.
Hugs.