Spring Cleaning...
Out with the old, in the new... Spring is a time to lighten up!!
I took this literally today.
This was me this morning:
[Yep, that's me, I swear! Look at that hair! It's not really curly at all - that's just from putting it up wet and letting it dry. :) ]
Okay - anyways!
Here is me now!: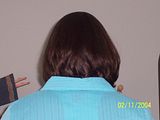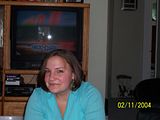 I donated right around 11" to
Locks of Love
- and got the cute cut gratis! I was so glad to be able to help; I am admittedly vain about my hair, and am thrilled that I might be able to give that opportunity to someone else, who needs it more than I! Even better was seeing all the people that turned out to the event to donate their hair also... everyone from little girls getting their first cuts, to old biker dudes chopping off their ponies. When I left, they were past their 50th cut [with a 10" minimum, mind you!] and still had a long line left to go!!
Things have been going really well for me. I feel like I'm ridding my life of "heavy" things, so to speak. The semester is starting to wrap up - I just gave a huge presentation on Thursday [30% of my grade, if I recall correctly] - I threw it together last minute Wednesday night, expounded upon my
guacamole pictorial
, and got - get this - a 99%. The one point I lost was for letting my summary slide run over to two slides. It felt great to get that out of the way, and do it well. I also finally drove out to my old school, soon to be my current school again, and had my transcripts sent to the community college so I can get my associate's this spring. Another check off the list!
I still haven't been crocheting. My desire has been squelched for the moment- I hope it comes back soon. I have things to make!