I did it!!
I finally finished the Neverendinghan!! I'm so amazed with myself... this blanket has sat by the way side so long I seriously doubted I would ever finish it. [Now, the cloud graphghan has taken it's place, but let's not think about that, okay?] I think the last time I actually made a serious post about this project was in
November
[!!!] when I showed you these pictures: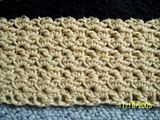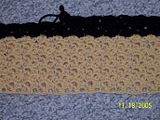 I actually finished the 'ghan earlier in the week, but hadn't gotten around to photographing it. It was made intending to be used at Kris's house, hence the bumblebee-esque color combo, but so far it's gotten so much use at my place that I doubt it will be leaving. Even it doesn't match. So, here's the FO: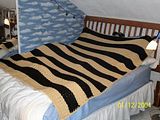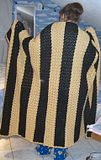 That's Kris hiding under it on my double bed and me holding it up.
Stats: I used
Bernat Super Value
in Black and Deep Straw, 3 [8oz] skeins of each, and my
TOTC
J hook. I used a stitch I picked from
101 Stitches for Afghans
, which I've seen elsewhere caled the sedge stitch. It's a sc, hdc, dc shell, basically: textured, but not feminine, and not very open. It's quick and mindless to work up, too. The edging is my favorite standby,
reverse sc
. It always looks clean and polished - for some reason frilly or scalloped edges just don't do it for me.
I've been trying not to start too many new projects, cuz it's been so long since I've finished any and it feels nice to be on this roll. I've been thinking about picking up the sucky Karabella spiral shawl again and trying to work that out. Last time, I think I had a pretty promising start figuring out the pattern, but completely quit working on it for some reason. [?!]
I've also been working on a little, secretish project, and trying to get some things set aside for my secret pal. She's turning out to be a real doll and I want to send her some great stuff. Summer is coming up and I'd like to send her some nice cottons or other lightweight fibers, but I know a trip to my LYS is going to prove dangerous on my budget!!
See, with summer coming up, I hopefully will have a month or two off from classes, [I'm sure I'll write more about that later,] and I'm seriously pondering investing in a knitting class. The ones I'm considering don't run cheap, but the shop I'd be at is also the only one I have found where I truly feel comfortable and enjoy the atmosphere. I have had a desire to knit for a while now, but *no* desire whatsoever to learn from a book or try to teach myself. I want someone to help me... especially since I've heard that "Continental Style" [whatever that is] is supposed to be easier for crochet-crossovers to learn, and I want an actual person to show me how that works, y'know?
Sunday we have Kris's nephew's birthday party - tomorrow after work I have to shopping for his present. We were planning on getting him a bat and mitt, and come to find out that his family on the other side already did. Boogers. At least I have a turtle for his sister...
Anywho, gonna run - Wings are on and I just missed another goal. Deneen, I hope you get better soon; and Jessi, I miss you and hope you feel better too. And, HUGS to everyone!!