Crochet the Rainbow
I did it - I joined

, along with masses of other crafters. Hopefully it will inspire me to finish some freakin' projects!! Plus, it's low commitment, which I like. I'm enrolled in the DC Secret Pals Swap, so I don't want to overwhelm myself.
I did have a little ulterior motive with signing up for P.S. too, since I knew I was only about an hour away from completing March's project - something red or pink. Yes, that's right folks, I have an FO to show!! Remember the
Fino yarn
I was going on about
before Christmas
? The shawl that ended up a scarf that
became a UFO
got set aside for a bit? It's finished!! My first lace project ever... I'm rediculously pleased with it, and only wish I would've finished it sooner in the winter so I could get more wear time out of it.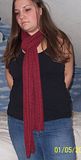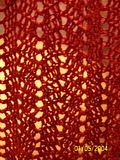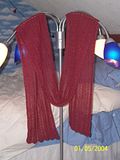 Stats: This scarf is 92" long by 8" wide. I kept going until it was as long as I wanted, and wove in the ends, no border. It used slightly less than one whole 100g hank of Fino, I'd guess about 800 yds. I used a size E hook, and a chevron stitch I liked from my
Harmony Guide
. When it was done I steam pressed it - never done that before and since I am not very familiar with the iron I had my mom assist. How lame is it that I'm 20 and don't know how to use an iron? [My mom thinks muchly.] I absolutely
love
this yarn. [But really,
KnitPicks Shimmer
is the *exact* same thing for half the cost; the only bummer is Shimmer doesn't come in the beautiful solid colors that Fino does...]
Anyways! I mentioned I signed up for the
DC Secret Pals Swap
- I'm excited about this. I'm hoping that the more experienced group will guarentee a successful experience for everyone... And I'm happy cuz I've already received a nice ecard from my pal.
Plus, the gal who I get to send to is someone who I'm not very familiar with, and from reading up on her I think I will really like her. I'm pretty positive she doesn't read my blog, so I feel safe mentioning that I dyed some yarn to send to her last night. I tried the Wilton's Icing Dye again, and had better results this time, but I'm still not thrilled, so I think I might over dye it tomorrow after work. It's tricky to get the color saturation on this stuff right - plus, my rinse never ran clear. Hmmm...? Anyways, I'm looking forward to spoiling her.
Now I'm gonna run, cuz Kris bought me a scratch-off and I gotta see if I'm rich. ;)