The Bloat is Finally Receeding...
I hope everyone's Thanksgiving was great! Ours went really well - for the first time ever we ate at my aunt's instead of my grandma's; which means we walked *down* the block instead of crossing it, lol! My mom cooked the turkey for the first time ever this year, too! My grandma still hasn't been feeling 100% lately, so everyone decided it would be good if she just chilled out and had all the cooking/hosting done for her. It went off without a hitch, and we all enjoyed ourselves. It really helped that no one was worrying about Grams giving herself another heart attack!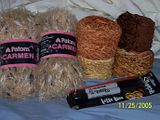 Now - on to business, LOL! First on the agenda - a big fat thank you to the wonderful Elizabeth of
Three Olives and Some Yarn
. I found a box full of these goodies from her waiting for me when I woke up yesterday - apparently I'd overlooked it on Wednesday. Waking up to this was definitely the right way to start the day, let me tell ya!! The chenille that she sent are various "liony" colors - all absolutely gorgeous. I plan on making the amigurumi lion with some of it - it will be so soft and cuddly! She also sent along two sensuous skeins of Paton's Carmen - which brings my total to 6 skeins of the Camel color. [Whatever shall I make? A wrap? A throw pillow? Slippers? Ideas, anyone?] And the Sharpies there? There were two boxes, 'cept one didn't make it into the picture. Oops! Thank you Elizabeth!!
My next "item of interest" is the little bit of Christmas shopping I did for myself today. I feel like I've posted this before, but my parents gave up on shopping for me and my sis a few years ago. Instead, now they give us each $200 and let us buy our own presents. Then we have to give them back to be wrapped and saved til Christmas. It works out perfectly for our family, since my parents hate shopping, and this way we get exactly what we want. I got my money this week and have been sitting on it; I don't have any one big ticket item I want, and I want to make sure I don't blow it on a bunch of stupid little shit.
But - today after picking up my paycheck from work, I decided to stop by one of my small LYSs. I'd been in this shop about a year ago, and I thought the owner was a downright bitch so I didn't go back. But, last week in a local paper I saw they were having a 20% off yarn sale today, so I went again anyways.
I'm glad I did, because the store, Ewe-nique Knits, is now under new ownership. It's a mother-daughter duo, who are very sweet and have started a bunch of new classes, including crochet classes. I'm really excited about that, because that makes them the only independant yarn shop around me that is crochet-friendly. While I was perusing their gorgeous selection, I overheard another customer on her cell phone, talking about their learn to spin classes. I decided to ask just for the heck of it, since I've wanted to try spinning for awhile now, but have never even held a real spindle.
Well, the owner lit right up at my interest, and soon she'd brought me into the spinning room, which is an entirely different part of the store. There were tons of gorgeous wheels and handspun yarns on display, and crates waiting to be filled with roving. She even gave me a quick little demo! I was totally sold, and signed up for the class right on the spot! I picked out a smaller sized spindle, which she let me take home right then.
But - the best part is -
Jessi
is going to take the class with me!! I'm so excited about this Christmas present - a day learning to spin with a fellow fiber-head friend!! Plus, the shop is located right in the downtown of one of the trendiest areas around, so there will be tons of places to shop and stop for lunch. There is no way my parents would have ever gotten me something so cool!!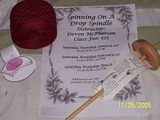 So, these are the things I left the store with today: my new spindle, the flyer with the class info, and a hank of beautiful beautiful yarn that I got for 20% off. It's called
Fino by Alpaca with a Tiwst
, and the color is Ruby Slipper. It's so so soft, and there's so much yardage in one hank... I don't know what the heck I will make with it but I couldn't put it down!!
It sucks I can't even *play* with my spindle til Xmas, though. :P I'm already totally anticipating it, and then there's still like 2 *months* until the class! [LOL, I'm so excited, I put in for the time off as soon as I went into work tonight!]
Gonna go chill out for a bit before bed now; hugs!!