Reveal and other blogging matters...
OMG - this is what, three posts already this week? Plus I've got Foodie Friday tomorrow; I may be going for a record, LOL!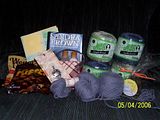 Firstly, I need to give a big thank you to
Tandi, aka quirkyvirgo
, for being a most excellent secret pal to me. Her reveal package arrived at my doorstep yesterday, filled with goodies. Included were four balls of Aunt Lydia's Double Strand thread in two different colors, two hanks of a dreamy steel blue angora blend yarn, a yarn cutter pendant, a little bag of apricot green tea she got on a recent road trip, a book she thought I'd like, some bath treats, and two big bags of candy. Thanks again, Tandi, for being such a great pal!
Spring has finally come to Michigan, and it's so pretty and wonderful smelling. Just in the last two days, the lilacs have started blooming and the scent is amazing!! I don't have any pictures of those, just yet, but I do have some others to share: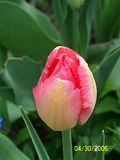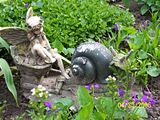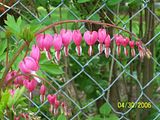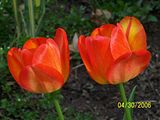 The garden statue isn't anything special, I just think she's cute. :)
I started work on the Sweet Pea shawl for the CAL that is now over, and decided it just isn't working out. I am so disappointed, since I'd intended it to go to my secret pal, but I'm not happy with how it's turning out at all, and I don't have time to choose another pattern that will work with this yarn. [I was using Cara Mia held along with a strand of metallic thread, like Lurex.] I also don't want to send her a fugly looking shawl, LOL, since she's actually nice! So, once I finish posting, I'm gonna frog what I've got, and just wind the thread and yarn together for her on my winder, and hope she's okay with that. I also bought two balls of Blue Sky organic cotton and the Bitty Bobbi Bear pattern to send her, so I don't think she'll be complaining. ;)
Th only other croheting I've done has been dishcloths - exciting, no? They're nothing special and you've all seen a million of them, so I won't bother to post pics. Mine don't break the mold, LOL. Kris and I know some people who will be having babies soon, so I finally broke down and bought the book
Candy Blankies
. It's one I've been wanting for forever, so even if I don't get around to using it right away, it will still be worth it. And, I've been wanting to do some thread work and feel the urge to try a mini-doily, so I may look into that. I also found my 99 Snowflakes book while I was cleaning out my car last week, so I need to get catching up on my Snowflake Mondays. I'm way behind!
Oh, and there's a new CAL starting for May over at
DoD
, and it's none other than my
Econo-Shopper pattern
! So of course I will have to whip out
a few
at least one of those, too. I'd like to take the time and plug myself here, and encourage everyone, even if you aren't a member of DoD, to make an Econo-Shopper this month. They're great for the beach; they stretch to accomodate lots of things, and the mesh allows the air to flow through and the sand the fall out!! And for shopping, they're much more environmentally friendly than plastic. [Just check out
ReadyMade's blog post on re-useable bags!
]
On a side note, whilst cleaning my car last week, I discovered that my trunk leaks. Upon closer inspection, we realized it's the result of a poorly installed trunk seal, that was done during the repair after I got rear ended. Which, I think happened before I even began blogging, and that gives you some idea of how long it's been leaking for with me not even knowing. So, I figure at this point it's totally unreasonable to go to the place that fixed it, and be like "Oh yeah, this seal, that you replaced like 2 years ago? It leaks, badly. But I just noticed last week. Really." My car's falling apart, LOL, and just when I get the fucker paid off, too!
One more thing, and then I'm done, I swear! I just want to sneak in a little plug for another new crafting forum,
Peacecraft
. It's just another place to relax and be yourself, and enjoy a love of
all
crafts. Go there and check it out!
Okay, I think that's all, or at least all I can remember for now. Good enough, at any rate! Hugs, all!