Lots to post...
But not a lot of time... and I know if I blabber on forever you'll all quit reading... so here's a [mostly] photo update:
Drawing [Belated, yipes!]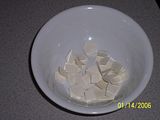 Winners,
Andrea
and
Wendy
!!
Details on prizes will follow, since I've *still* not decided what you've won, but Wendy, I need your address info, so if you could
email me
that it would be great. :) Thank you everyone else for
playing along
and for sticking with me after a whole year. I really love having you all as friends!!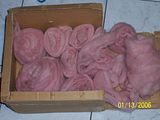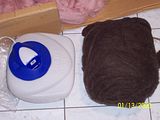 Gorgeous roving from Jacqui - tons of it!!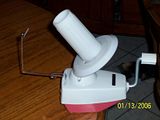 and - a BALL WINDER!!! I've been winding all my stash up... I love it. Thank you so much, Jacqui!!
Spinning Class and aftermath
Went great, although I forgot to bring my camera, so I don't have pictures from the actual class, but
Jessi
does. I had a rediculously good time - we met up early for coffee, then went to the shop for the class. There were a dozen ladies total, and our teacher was a really nice, knowledgable guy. We got about four ounces of some very soft grey wool, and maybe an ounce of some super silky black alpaca to play with once we get better. Here's what I spun and plyed during the class, which ran over by almost an hour, along with the extra fiber: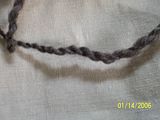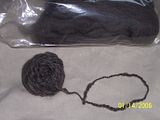 And remember this roving that I dyed?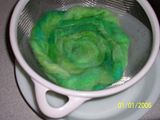 Look what I spun it into last night: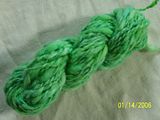 It's a mini-hank, it weighs just over an ounce and is about 20 yards worth of bulky yarn. Don't know what I'll do with it - maybe make an
amigurumi turtle
?? I'm proud, though.
And this is on my spindle right now, it's some of that beautiful chocolate wool from Jacqui: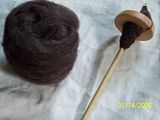 Although my hooking has taken a back burner this weekend, I did finish up the fulled slippers for Lauren last week. I didn't shape them to dry, so they're a bit janky looking right now. I have to re-wet and shape them but I've been lazy and she's been wearing them anyways.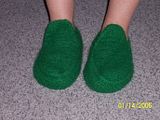 For those of you that are handy with templates and things - how do I put the title of my page at the top so it shows up on every page as a link back to home? It was on the old template and I have no idea how to get it in this new one... and it bugs me because from the perma-link pages you can't get anywhere...
Oh, and does anyone know what happened to the Crochet Blogs button?
I started classes this week. My german teacher is a dud and isn't very good at explaining anything... If I hadn't taken some german before I would be very lost, I think. My computer class is redo - I'm hoping to pass it high enough to transfer credit, this time. I registered with the same teacher I had last time, who's a decently funny guy. He's a great teacher though, and fair with his grading. I just need to do the work this time. :) Oh - and bowling? Turns out it's only a half semester deal, and it doesn't start til March. Except, I didn't realize that until I had warmed up my car to leave for the first class, and only then decided to double-check my schedule. Doh!!
There are lots of fun memes going around right now that I want to do too, but I haven't got the time... I love reading them all, though! Awesome questions, too,
Lori
!!
Anyways - gotta run - today's lemon rice soup day at one of my fave little restaurants - YUM!! Hugs, all!!