Crochet Olympics
It's a rainy, icky, lazy Sunday - perfect for doing nothing, which is what I'm doing. :) In fact, I highly doubt I will shower today. It's just one of those kinds of days.
Inspired by the Knitting Olympics that are occuring out there in blogland, the ladies at
Crochetville
have gotten together a Crochet version, which I felt I *had* to join. Lately, I have been in this crochet rut - where I have about 4 projects going, and just can't seem to finish a single one. I just work a little on one here, and a little on another there... and spin a little in between... and it has just been a big length of un-productiveness. I even tried to just get a
snowflake
done yesterday, and the blending filament kept tangling so badly I gave up. Poo.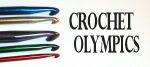 So - I'm hoping the
Crochet Olympics
will be the catalyst I need to get myself out of this rut. I sure hope so, because I've decided to do a wearable, and one of the rules is to *not* set yourself up for failure. I've been really wanting to do another top since the Big-Collared Cardi nightmare, and this is just the opportunity...
Now I just have to decide which top to make. This is where I'm hoping you will help me, since my family is utterly useless at assisting in things like these. I've got it narrowed down to three choices, and if I knew how I'd put up one of those cool polls in the sidebar. But, I don't, so if you'd just leave me a comment, letting me know which project you think I should do, I will love you forever. It would also be excellent to hear why/why not you think I should[n't] chose a certain project - i.e. "That one will take a lot longer than 16 days so don't even try it."
Okay, so here are the nominees for Natalie's 2006 Winter Crochet Olympics Project: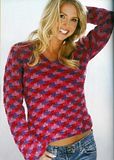 1.Ilene from Cool Crochet

Thoughts: The recommended yarn for this sweater is TLC Amore, which I love. I'll use that yarn if I make this, however, it will be in a solid color, most likely black. I'd also extend the torso length a couple inches. This has been a "want to make someday" project ever since I got the book.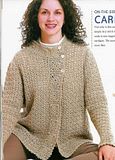 2.On-The-Side Cardigan from Hip to Crochet

Thoughts: The recommended yarn is Classic Elite Miracle, which is beautiful but out of my price range for a project of this scale. So, if I end up making this, it will be in another DK weight, probably from KnitPicks. I'd love to make it in Elegance, which is also almost identical in weight, and half the cost of Miracle. I've been wanting a cozy cardigan ever since the Big-Collared flop, and I think this would look nice in a heather grey.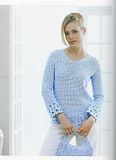 3.Lacy Tunic from Hooked on Style [originally from Paton's Beautiful Crochet booklet]

Thoughts: This pattern calls for Paton's Grace, which is a gorgeous yarn, but I think it could get very pricey to do a whole sweater out of. Instead, I was thinking maybe Lustersheen, but I'm not sure if that will have the same sheen and drape as the Grace. I like the fit of this sweater though, and the motifs might break up the work a bit. [Or, make it grueling, who knows?]


Alright, that's what I've picked for myself - now, please help me pick what to crochet for the Olympics! I only have a little bit of time to get the yarn together, and with my budget lately, that could be tricky! I am making myself get my packages wrapped up first, especially since I have a couple that are overdue. [You know who you are, and if I owe you something I have not forgotten about it! It's just that I'm not used to budgeting and I have to spread my cash out a bit longer... Soon, though, I promise!!]

Wonder if Kris would buy me Olympics yarn for an early Valentine's Day present??