Overdue Thanks!!
I've gotten packages!!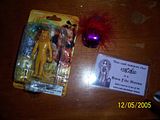 First, from the wonderful
Lori
- my Shrone inductee award package!! Included along with my Official Bona Fide Shrone card was a cute little red-hatted snowwoman ornament, and a Brave Cowardly Lion figurine!! A most excellent welcoming package - Thank you so much, Lori!!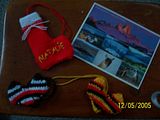 Next, from
Vik
way down in the beautiful Argentina, a package that must have cost her a small fortune in postage!! She sent along a sweet postcard, and three *knitted* ornaments... two hearts and a tiny stocking with my name on it! Thank you Vik, I appreciate your thoughtfulness very much!!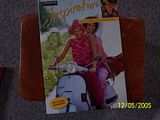 And lastly, a gift I received today while recovering from my sicky-weekend, from an anonymous elf in the neighboring Ohio: a copy of
Inspiration No. 81 - Crochet Fashion Ideas Spring/Summer.
This booklet is full of cute patterns, some of which include knitting but most of which don't, and several of which are now on my WIM list. Thank you very much, Anonymous Elf!
Now I'm off to stiffen my flakes...