Can You Find The Dog?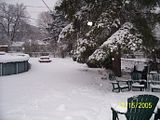 Mikey got groomed today - in order to keep the snow from sticking between his toes, Rosie, our groomer, gave him ugly feet:
He refuses to wear boots, though.
Rosie also sent my mom home with this, too: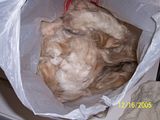 Probably about 2 pounds of chiengora fiber - dog hair, lol!! It's all washed, but no brushed... so it looks like I have to learn about carding now! It's all so soft, though - she didn't give me any course hair. It looks like some golden retriever and maybe some lab and probabaly alot of lap dog hair - long, pale, fine fibers. It's all various shades of cream and tan and mocha... So if I get it spinnable, I will have some lovely yarn to play with!!
Anywho, I'm off to nurse my mouth a bit more... It's still all fucked up, even though it was "fixed" at the dentist's... try making a snowflake all doped up Vicodin - it took me so long!! LOL!!
Hugs!!