Snow in the Suburbs!
Lots of snow today!!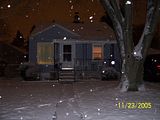 Real snow: about two inches right now and still falling! It's been going strong since about 10 this morning and has actually stuck to the roads. Even the big highways are starting to get pretty bad, but they say it will let up soon. It seems like the first snow in Michigan, everyone has to remember how to drive again - I saw so many people almost get wiped out today, and all day long at work our customers were coming in with accident reports. I'm *not* thrilled that now we're to the point again where I have to clean off my car and wet pants hems all the time. :P
And fake snow: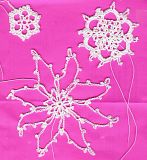 These are the latest additions to my snowflake collection. I'm really *very* satisfied with the way the medium one turned out - and once they're blocked and starched I think the big one will look quite lovely, too. I just have an affintiy for the little ones - they're so darn *cute* [said in most annoying
Old Navy spokeswoman
voice]. I want to just make piles and piles of them, but my poor afghan is getting a bit neglected. My goal is to finish off the whole ball of
Cebelia
before the 1st week of December, so I can send some out with cards and whatnot. Hopefully my blankie will not fall too much to the wayside - and I gotta say, I am appreciating it's simplicity *a lot* right now.
And also - a huge, huge, huge thank you to
Deneen
for graciously gifting me with a
large haul of her most excellent hand crafted soap
. After using this stuff, I swear I never want to suffer with a store bought bar *again.* Also, if I was your financial advisor, Deneen, I think I would advise you to stop gifting this stuff and start selling it. I know you've said it takes the fun right out of it, but seriously - it's worth loads.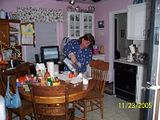 Now, I'm off to watch some Red Wings [
Jessi
- fingers crossed with me that they won't be pathetic tonight!! After the scare the other night they could really use a win for morale!] and maybe "help" my mom bake our traditional Thanksgiving goodies. Thanksgiving and Christmad are the only time of the year she makes pumpkin rolls [which I thought were a family exclusive but I just found the
exact same recipe
by Yahoo'ing it.] Still, I'm posting the recipe because I love my friends in Blogland and this truly is a delicious dessert, so I feel it's good to share it. Instructions, plus my mom's comments, are below, along with a scan of the card my mom received it on when she married my dad. [I think it's from
her
mom; see the date? 1981!] If I remember I will add a pic of the finished product tomorrow, after it's all iced and yummy looking.
Pumpkin Nut Rolls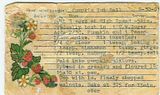 Beat 3 eggs at high speed for 5 minutes
Gradually beat in 1 cup white sugar
Add: 2/3 cup pumpkin and 1 tsp. lemon juice
Mix Together: 3/4 cup flour, 1 tsp. baking powder, 2 tsp. cinnamon,
1 tsp. ginger, 1/2 tsp. nutmeg, 1/2 tsp. salt.
Fold into pumpkin mixture.
Spread in greased and floured 15 X 10 X 1 jelly roll pan
(recipe says to top with 1 cup finely chopped walnuts ... but we never do cause old people can't do nuts)
Bake at 375 for 15 minutes; watch closely oven times vary. (recipe says 375 but i do it at 350 cause I have these black pans that cook quicker)
Turn out on a towel (I use white hand towels) that have been lightly sprinkled with powdered sugar. Starting at narrow end roll towel and cake together, like jelly roll - cool in refrigerator - then unroll and frost with filling and re-roll ...cover loosely with saran wrap and refrigerate til you're ready to cut and serve.
Filling
1 8 oz. package cream cheese
1 cup powdered sugar
4 Tbs. butter
1/2 tsp. vanilla
Beat til smooth. Spread over unrolled cake, re-roll, and chill...delicious.
Happy Thanksgiving! Hugs!!