Great Haul!!
so, Kris and my dad and me went to the flea market this morning... And usually the only crochet related things I can find are old doilies... Which are great but nothing that I'd buy, LOL...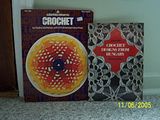 But today I was browsing the booths when an old BH&G mag caught my eye. Actually, it turned out to be a dud, but in the same booth I found some other stacks of magazines that turned out to have some good stuff in them!! I got these two vintage crochet publications for a total of five dollars. I wish that I could link to some more info, but I haven't come up with much in my searching.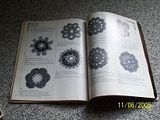 The first is a magazine type publication by Columbia-Minerva called
The Art of Crochet
[by Pauline Chatterton]. This is basically a big crochet dictionary. It's got basic/lace/shell/V/cluster/etc. stitches, as well as motifs, edgings and flowers.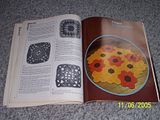 It also has few patterns thrown in to help you utilize your crochet skills, as shown in this funky example of a rug. [This was published in 1974, in case you couldn't tell, lol!]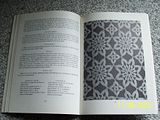 The next book is
Crochet Designs From Hungary
by Juliana Ray & Madeleine Bokoli. It's a 1973 reprint of the 1959 original. Even though I'm not a particular fan of thread rochet, which is what this book is chock full of, I simply couldn't pass it up.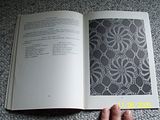 There's just a *ton* of beautiful motifs in here. I don't know what I'll ever do with them but I felt like I needed to add this to my collection, LOL!!
Hooray for flea markets!