First Flakes of the Year!!
For sometime now, I have been wanting to try my hand with thread. With
Lori's
beautiful doilies and
Regina's
twisted eyeballs, how could I not?? I was just scared of the tiny tiny stitches and superfine hooks - and everytime I'd get up the nerve to "just do it," I'd end up getting halfway to the checkout with my threadie goodness then turning around and running to put it back!!
But then it started to get cold, and I really decided that I'd like to start out with snowflakes... I want to be a super-domestic goddess who sends handcrafted goodness in all her [my mom's...] Christmas cards. Also, with the Holiday Wish List, I think for wishes I am unable to grant, it would be nice to get a card with a snowflake. It's a handmade something that's *not* super-cheesy!!
Soooo, when I went on my craft shopping extravaganza, I broke down and bought some basic thread supplies. I picked up a copy of Leisurs Arts'
99 Snowflakes
, along with a size *6* hook and a ball of DMC Cebelia. Last night I got to work right away, and this is what I ended up with: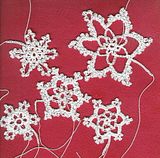 I apologize for the poor "pic;" I am running out the door *right now* for work but just had to show these lovlies off, so I stuck 'em on my scanner under a folder, LOL!! They're [obviously] not finished or starched yet, but they be lookin like a snowflakes, and I am thrilled!! They're so *fast* to make...
I think this was a good intro to thread!