You want to see my pictures??
If not, I'd skip past this post, cuz it's gonna be picture intensive.
Going up north was lots of fun - the trip was *way* too short. I was still dealing with my illness issues but was feeling alot better - I had a great time. Here are some highlights from the Elk Fest on Saturday: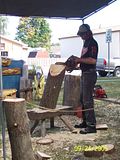 There were a couple of these chainsaw sculpters doing demos at the park... Although this wasn't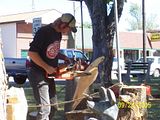 really the coolest sculpture, it is the one I had the best before and after pics of. It was really interesting watching them work - chose different saws and everything.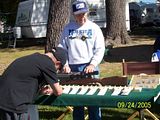 <--- This next one is Kris entering one of the many rifle raffles there.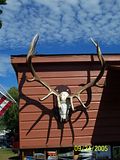 This one ---> is for those of you who've never seen an elk - the reason why the festival is even held. These horns aren't even from a particularly large elk, either.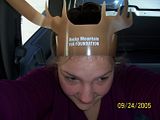 <-- Here we have me flaunting my faux antlers. Sexy, no?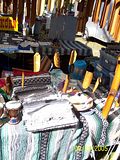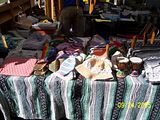 These couple are some of the crocheted items that were being sold at one of the booths. Even though the area is definitely not as affluent as what I'm used to, the trend was that all the crocheted stuff was seriosuly underpriced. It made me sad.
Bump 'N' Run Pictures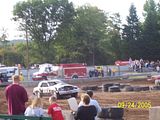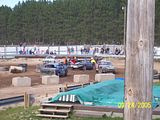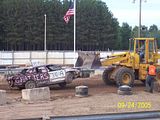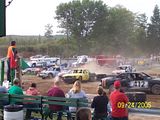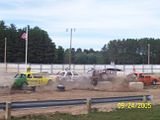 The Bump 'n' Run is by far the highlight of the whole thing. In the summer up north there's a whole circuit, with top drivers and sponsoring teams and all. All the towns have got at least one. It's a relatively safe way to just go out a destroy shit. I was thrilled because I got to see some roll-over action this year - not just one, but three cars flipped!! In fact, the moo-cow car, the black 88 one, got stuck on a tire, rolled right over, and kept on going! The picture was taken right after he flipped. The worst part were by far the bystanders... The lady in front of us had a hubby who was racing.. and in the 2.5 hours we were there... she packed and smoked an
entire
pack of Marlboro Red 100's... and then packed and opened another fucking pack!! At least 25 cigs she smoked - while her preschool aged daughter was right next to her the whole time. *My* lungs ached, I can only imagine how the kiddo's must have been!! And that's the norm up there - non-smokers are the *very* small minority. The way to get area out of depression would be to open up a cig factory, I swear. But I digress.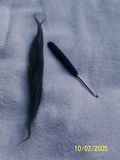 My last pictures of the day of the hook handle I felted this afternoon. I saw
Cheryl's post on C'Ville earlier
, and was intrigued. Later on I came back to it, and after reviewing
the instructions
, decided to give it a go. I used some gorgeous roving
Deneen
sent me a good while ago, and used Dr. Bronner's peppermint soap instead of dish soap. Next time I do it I'm using Ziplocks, cuz I had some leakage, but it was really easy and I love the way it turned out.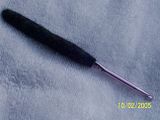 I can totally see getting intricate and detailed with these. I like how the wool will wick moisture away from the skin, and keep it warm and comfortable at the same time. Guess I will have to start shopping for rovings now, too!!
Right now my primary WIP is what I'm calling "The Not So Seraphina," or maybe - "Seraphina Mutilated." I wanted a batwing shawl but didn't want to make the Seraphina again... so I changed it to be how I wanted it. I'm using up some of the cotton chenille I bought from Melanie [eBay store search for Fiber Options if you're interested] awhile back and it's turning out quite nicely. It's a color that I'd never wear, though, so I'll have to figure out what to do with it when I'm done!!
I've got to do some serious stash busting, not because my wallet says so, but because my room does! Between the 'skinny wardrobe' in my dresser and armoire and the 'fat wardrobe' piled on any flat surface, and the yarn multiplying in bins and on my shelves and my floor... My room's a freaking disaster. Seriously. It's so awful it's getting impossible to ignore and so something must be done.
Kind of like my life working at Psychos, Inc. - ! - but that's a whole nother bitch seesion that I cannot even start right now!
hugs to all my buddies in blogland!!