Right now,
I'm *supposed* to be in my Geography class. Buuuuuuut, I decided not to go - I don't feel like it, it's boring, no quiz today, etc. I thought I'd rather sit home and chill out, since I felt like I haven't done that much lately. I should've gone, just to check the status of my financial aid, but I'll do that before my next class, tonight at 6. See, last Saturday, I got a letter saying that my financial aid hadn't gone thru cuz my school hadn't received my Student Aid Report. So on Monday, after dealing with the *bitchiest* girl ever, I came to discover that I "wasn't on file" for aid. Not at my school, not with the government. Turns out, my mom forgot to forward me the renewal notice for my FAFSA that they send out in like January. The notice that was due *today.* So, we scrambled to get it filled out, and I'm like 99% sure that everything will continue right on track, and I'll get my aid as expected, after the last official day to drop classes. but, I just want to make
sure
, otherwise I'll need to scramble for several hundred dollars to pay my mom back. [Yes, only several *hundred.* One of few perks of going to a comm. college. I just found out that tuition at the university I'd started at and will be returning to next year has been upped so much that each class is costing a couple grand! Ouch!]
Anywho... Mikey, my dog, got his shots on Tuesday... routine vaccinations... except that he had a severe allergic reaction to them. Wednesday morning he was running a high fever and panting so badly he woke every one up. He was shaking so hard it looked like he was seizing... I felt so awful for him! He started to get better once we got him some aspirin and some baby Benedryl, but he was still all fucked up yesterday. Today, he's just taking it easy...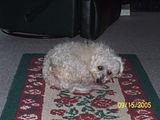 We've been having issues with other allergies, too... For some reason he keeps scratching, so much so that his hair's been thinning around his ankles. [No, he does NOT have bugs.] My mom's been giving him oatmeal baths, which will help for a short time, but our vet and groomer both said that animal allergies have been bad in our area this season. My mom's wondering if it's our tomato bushes - has anyone else had this problem??
My wonderful 'secret' sistah showered me with more awesomeness last week, and I've been entirely neglectful and not posted about it.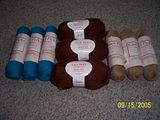 That's nine balls of the
Merino Style
wool from
Knitpicks
- three balls each of Nutmeg, Cinnamon and Frost. How freakin spoiled am I?? Seriously - one of the nice things about other people choosing yarn for you is getting something you might not otherwise buy for yourself! These are all colors that I adore, but probably wouldn't have picked out together, but they compliment each other so nicely!! I haven't decided what the hell to make with this yarn, or if I will use the colors together or seperately... I'm thinking about making a
'Marvelous Fulled Mini-Tote'
or maybe trying out the pattern I've had developing my head in a fulled version. We'll see... for now, I'm just enjoying looking at it.
My
Econo Bags
have been enjoying great success, and I could not be more thrilled. Seriously, my ego has swelled with all the sugar that's been said about them! The pattern has even been accepted to the 2007 calendar, YAY!!!
Happy, happy me!!
And since I'm out of shit to write about for now, I'll leave you with the poem I whipped up for my class tonight. I haven't titled it yet - any suggestions?
He moves against me
like a poem...

In a complicated rhythm
of stressed
and unstressed
moments.