That beautiful season the Summer! -Longfellow
I am definitely a summer person. Don't get me wrong, I enjoy living in a state that experiences all four seasons, but summer is by far my favorite. I love the sun, I love swimming and tanning and going up north, I love the birthdays that come in the summer [MINE!!], I love the smell in the morning. I love going barefoot. I don't know why I'm going on and on about these things, since it's actually pretty downcast out right now, but I'm just in a great, summery kind of mood today, and I thought I'd share, I guess. :)
I go back to work today. It's the first time I've worked since Thursday. I totally loved the time off but it's so weird to not work at least a little... I felt like I didn't know what to do with myself. So, while I'm not actually looking forward to going back, I'm not dreading it either. What I
am
dreading is registering for classes... That's going to be a big headache. Trying to schedule classes around work is basically impossible with the stupid schedule I work, so I know I will have to cut back on my hours. It sucks though, because we're loosing a part-time cashier at the same time three of us go back to school. It's going to be a little rough for a while! Plus, I'll be cutting back my hours right as I have to pay tuition - I want to try very hard not to keep racking up financial aid... And I have to start thinking about when I'm going back to
Oakland University
, cuz I think I'm pretty close to having all my gen. ed. credits. *Stress!*
I worked on the Triple Play pattern for the majority of the [long] weekend... This is my progress: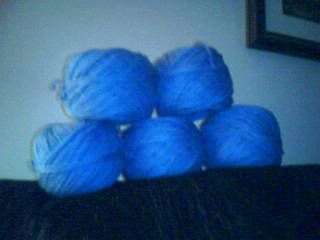 Yep, that is what it looks like - five balls of yarn. I'd almost finished it when I decided to try it on... way too late... big mistake! It was *HUGE* as it was and then, of course, the material stretched! So, instead of finishing it up and hating it, I decided to frog it and do it over. Hopefully the second time through will be alot smoother. I'm just glad it's not a difficult pattern
at all
, I don't feel as bad about re-starting.
Now for lunch... mmm...