So Long!!
We're leaving in just a little while now! I'm so excited - get this - I even baked cookies for the ride. How Suzy Homemaker is
that
?? The best part is - they're *special* cookies! They should make the ride up
much
better... ;)
It's about a 3.5 hour drive north to our cabin, if you're doing a steady 20 over the speed limit the whole time. The drive is nice though, and usually traffic isn't too bad. I'll be gone for a whole week! Yay!!
Here are some old pictures from up north: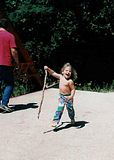 This is me, probably around 3, on a bridge at a nearby forest trail.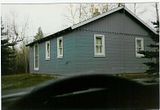 This one is a picture of our cabin about 15 years ago. It now has siding and a picture window in front, but is still the same size - smaller than my dad's garage.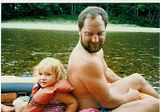 This last one is me and my dad on his boat at Clear Lake.

Talk to y'all in a week or so!!