Grand entrance, anyone?
LOL, I feel that I've been gone so long I should at least have something attractive and appealing to begin with. But, I don't!
I've been so neglectful about my thank yous, it makes me feel guilty. Firstly, a long overdue thanks to someone who sent me a package a couple weeks ago. I can't believe I've not acknowledged it here, how rude of me! This thoughtful elf sent a crocheted belt in periwinkle blue, a little package of teas, and this pretty little bookmark:
Thank you so much, elf!
Next, a big thank you to
Jessi
! She sent me a box stuffed full of good things, wrapped in Christmas paper, no less. My sister was puzzled when she saw it, to say the least! Here are just a couple highlights of this package, stitch markers and a beautiful angel bookmark: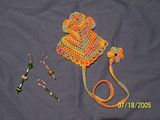 Jessi also sent some bath treats - fizzies, a soap bag, and a washcloth. Plus, she stuffed a ball of JoAnn's Rainbow Boucle in there too, in the light blue colorway.
My last thank you is to an elf in Florida, who sent me a sweet postcard. It's so nice to get mail that's not credit card offers! Thank you!
Well, I have been crocheting during my absence... in fact, I finally finished triple play. I have yet to block it, and for some reason I just quit halfway through the drawstring, but for [most] intents and purposes, it's complete. I bought fabric to figure out a sort of lining - I'm pretty much planning on making a tube top. That way I can wear it as a top or a slip or not wear it at all if I want to just use 3play as a cover up or something. Make sense? My only problem is that I cannot sew... I'm pondering using that iron-on hem tape, think it'd work? Sorry for the crappy, self-taken pics, I'm hoping I can get Kris ot re-take them for me soon.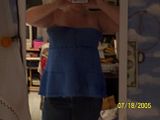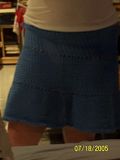 All in all, I'd say that the second time was a success. I used LB Cotton-Ease and a J hook, and didn't pay attention to the pattern sizes at all. I just made it the length around my waist and kept going til it was as long as I wanted. Very simple. I think I'll be making a couple more soon, for Kris's sister and his brother's girlfriend.
I made this shawl yesterday, while taking a break from the new Harry Potter book. [Prolonging the goodness.] It's made with JA's Rainbow Boucle, since my JA's finally carries it now. [More about that in a bit...] Even though I generally am not a big fan of red, the hues in this yarn make me swoon. It's so rich and luxurious looking!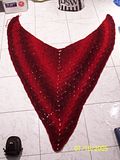 I used Holly's
Butterfly Wing Shawl
pattern and an 8mm 'N' hook. I worked it up quickly over an afternoon of swimming - I'd guess it took somewhere around 3 or 4 hours to stitch up. I used slightly more than half the ball, maybe 6oz, of yarn. This will be going to my aunt, who's birthday is later this week. It's perfect for her.
As I've already mentioned, I succumbed to HP mania. I tried not to give in, I did, really... I even made it until 6pm on Saturday before I
had
to have the new book. I was torn - with vacation fast approaching the money was really *not* in my budget. However, my hunny is wonderful and supplied me with the cash! I picked it up at Wal-Mart, totally grateful that they still had some in stock! Kris was prepared to pay the full thirty bucks for me [what a guy!!] but we got one of the store's last copies - only $16! I finished it this morning, after intentionally ignoring it for the greater part of yesterday. I'm so - not content - with the ending, and am anxiously awaiting #7 now... I think I'm going to check out 1-5 from the library again, and reread them on my trip...
My trip - Eek! The days are pretty sketchy, still... depending on weather, we will leave either this Friday or Saturday... and then we will be home, depending on weather, either Saturday or Sunday following. Up there, we have no TV - I mean, there is a TV but the only signal we get is a public access channel - Lawrence Welk and the like. Kris hadn't even
heard
of good old Mr. Welk until he came up with us a few summers ago! There's no news, either, unless you buy the paper everyday, which we don't. I'm thrilled! I will have email access this time, through my phone - primitive, but effective. Ill try to take lots of pictures to share, if anyone is interested.
I need to make one last trip to the craft stores for some SEX before I go. I want to have at least a couple different projects to work on while I'm there... i have to budget wisely, as both my Michael's and JA's have expanded their yarn sections lately! Michael's brought in a ton of new novelty yarns, which aren't really my thing. I'm really pleased with the new equipment they've brought in, though. Their hook and needle shelf has looked pretty dismal for awhile, but last time I went in, it'd turned into a fully stocked aisle! I'm most excited about the addition of Clover Soft Touch hooks, previously unavailable in my area. I hope to have a set acquired quickly, especially with my birthday coming up. Now, I wish they'd add the bamboo hooks, too!
And JoAnns... Oh dear. They've increased their yarn department about triplefold! It used to be sooo sucky looking - but now the shelves are stuffed, with bunches of new yarns, too! They've gotten in a bunch of fresh stuff from LB, Patons, Caron and Moda Dea, as well as their own Sensations line! We finally have the Rainbow Boucle, plus what I'm assuming is a new additon - the Bellezza collection. Wool and wool blends in gorgeous colors at wonderful prices! Here's what I got last week when I went, determined *not* to spend any money!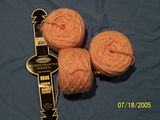 The color is not at all orangey, like it looks here, in fact it is a soft pink and cream blend. This yarn is called Dolcetto, and is a single ply, wool/nylon/cotton blend. It's so soft and fluffy - it's seriously like spun cotton candy. I'm dreaming of making a sweater with it.
Okay, well, have I gone on long enough?? I'm not sure that I'll have a chance to blog again before vacation. I'm [barely] keeping up with my Bloglines as it is, so I know it will be bad when I get home!! I haven't been commenting anywhere and I fear I'm falling 'out of the loop,' so to speak! It's been high 90s here for the last couple weeks, it seems like, and I just can't bring myself to spend anymore time at the computer than I already am, which hasn't been much lately. Oh well! I'll try to pop in here at least once more before I go. And if not, it would make me feel very special to get an
email
from you, saying hello!
Ah, well - good night!!