Oh Happy Day!
Today was just one of those great summer days. It all started last night, actually, when I wove in the last tail on the Seraphina. Hooray! She turned out oh so nicely, and I can't wait for next Saturday, when I open and it will be chilly at work, so I can wear her. I love how soft the boucle worked up, and the colors are really beautiful... It was totally worth being a "poser!" Here's the finished product: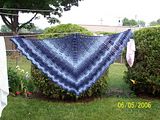 Then, this morning when I woke up it was blistering hot, and so so humid... perfect weather for wearing my new skirt!! Nope, not one from Old Navy - I found one at the mall on Friday for only $13!! It's great, exactly what I wanted, and I'm thrilled that it was so cheap cuz I got three tanks, too. I *really* need summer clothes, and am considering going back and getting the same skirt in either teal or brown, since it's such a deal and it's really cool/comfy too. Plus if I find some cute flats I could wear it to work, (no open toed shoes allowed there.)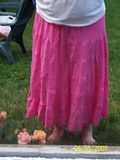 Then, since I finally finished up the 'Phina, I started a new project today. I really loved
Juli's shrug
over at C'Ville, so after doing a swatch of the
flower stitch
, I started my own. It's slow going because I want to make sure my loops don't get stretched out. I haven't made much progress so far: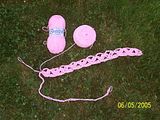 but I really love this yarn. It's
Sirdar Breeze
, in the color
Breeze Pink 70
. I received two skeins of this along with 2 of the
Breeze Wisteria
and 4 skeins of a boucle in the
Spring Yarn Swap
, from
Fatima, aka Scherazade
. I have been hoarding this yarn, waiting for a suitable project, and this shrug is definitely it... I really like the feel of this yarn, it's very soft and smooth... I've noticed a little splitting but not so much that it's become a problem. I have a hunch this shrug will be slow going but hopefully more than worth it.
We barbequed for lunch, and I pigged on a strip steak. *yum* We also bought a box of Rainbow flavored Popsicles - totally neccessary on a day like today. The Rainbow flavored are SO much better than the classic cherry, grape and orange... The Rainbow have Strawberry, Tangerine, Lime, and my all time favorite EVER, bubble gum. I think half the box is gone already... I've had
two
three already. *blush* I also made berry shortcakes again for dessert... *insert Homer drooling noise* Packing on the calories today!!
I did go for a bike ride later in the afteroon though, and got so covered in sweat that I had to get in the pool... First time this year, although it's been open since April due to some technical difficulties. The water was 80 though, and it felt so good I didn't want to get out.
Family Guy is now so I gotta go... What a great end to a great Sunday!