"I've been a bad, bad girl...
I've been careless with a delicate man..."
[Not really, but I'm offering a prize (TBA) if you can name the song that lyric is from. Seriously!]
I had some quality SEX (stash-enhacement expeditions) today. Lots of it, LOL. JoAnn's has their Firefly something-or-other sale going on right now. So, innocent me, I wander in hoping to grab a couple things for XMAS in July using the 50% coupons I got in my email. Turns out, all their clearance was 50% off! I should've just turned around and walked out, especially since I actually had money to spend, but no. I ended up with this: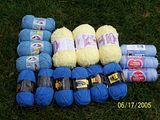 That's not even including the XMas gifts! But the prices were so great, I couldn't resist. The Lustersheen (which I have NO idea what to do with yet) and the Cotton-Ease were only $1.50 a skein. The baby boucle was $1 a ball, and the CaraMia? Only $2.50 each! Down from like $8! I was able to get a lot more bang for my buck and even got some larger X-Mas gifts.
I also resolved the Father's Day dilemma. Actually it was a lot easier than I'd thought it would be! My dad and I were walking thru Wal-Mart today when he turned down the pillow aisle. Turns out he's been wanting a new pillow - so he picked out a really nice memory foam/down one and that's that. Simple and I know he likes it since he picked it out, LOL!
GUess that's all for now, I have some yarn winding to do so I better get busy!