Had more SEX today...
I traveled back to JoAnn's after work this afternoon, hoping there was still some Cotton-Ease left I could snag for
Deneen
. Luckily there was, and I was able to score two skeins each of the candy blue and bright red for her. (Same dye lots, even!) I couldn't stop there, though... especially not with two coupons in my purse! This time I got three more skeins of Cara Mia, in winter white, and the
Pooh and Friends
booklet I've been coveting! (I ♥ Pooh...)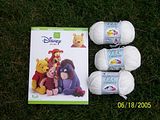 That's only what I got for myself though... I also picked up a couple more XMas gifts. I'm having fun amassing little presents, can't wait to start sending them out!
I also
received
a present today, from my secret pal. The postmark is from California... Hmm... I got a beautiful scarf she crocheted for me out of gold cord and a really pretty ladder yarn... (It also looks great as a belt, can't wait to wear it with a black tank and jeans!)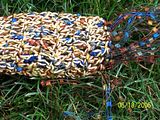 She also threw in some of those adorable mini-Sharpies and a cute notepad. She said that this was just to hold me over 'til the next one... Can't wait to see the kind of goodies she has planned if this is just a "hold-over" package!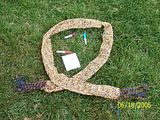 Thank you so much, Pal, you've really brightened my weekend!
I'm off to go show off at the 'Ville...