Alright.
For some reason my software won't install correctly. It won't actually run the Kodak piture program, but it's in there enough to recognize my camera and let me retrieve pictures. I suppose that'll do for now, but it pisses me off that it won't just work the right way. I don't have the time to figure it out though!!
Look at the lovely package I received from
Fiona
today. Such a sweetheart she is!!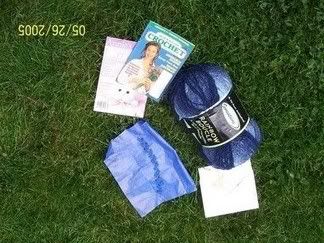 She sent a skein of Jo-Ann's Sensations Rainbow Boucle which I have been coveting, and included two pattern mags as well the cutest crocheted bracelet! It's beautiful, Fiona, thank you so much!! I can't wait to start on a Seraphina from this yarn, it's so soft and pretty! Plus, it's a freakin huge skein! I know people have said this, but I wasn't expecting it to be this large! (Excuse my !!s, please.)
More goodness: yesterday my copy of
Cool Crochet
arrived!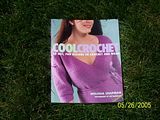 It came with the mail just as I was heading out to work, but since then I have had the chance to look through it and do my fair share of drooling. I'm so impressed with this book - it's such a great collection of clothing patterns I would wear myself or could totally see making as gifts. I usually am not the type to buy a book without looking through it first, but I'm glad I took the leap here. I thought to give you guys an idea of some of the stuff in here I would share some pics... I wanted to photograph the whole entire book, but since I couldn't, here are some of the ones I like most...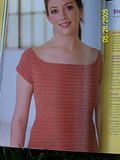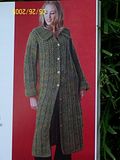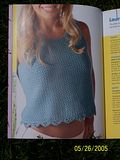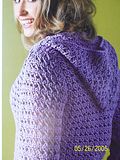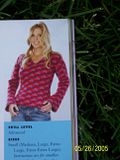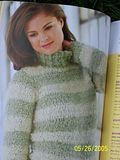 There are so many more great patterns, too... I definitely recommend this book. I especially like that the pattern sizes range all the way from small to extra-extra and sometimes extra-extra-extra large.
I'm working on fringing the
Gypsy Shawl
right now. One of my boss's birthday is this weekend and this is SO her style... The whole time I was making the shawl I was thinking that... And now I found out her b-day is soon, so that will be the perfect excuse to give it to her. Unfortunately I won't have time to block it, even if I did actually know how to go about blocking something, LOL, but at least it will have fringe. Anyone know where to find some good tips for blocking, for next time?
I've also just about completed my work on a secret project, I only have a few ends to weave in and I'll have it shipped out tomorrow... Once I get those shipped, the shawl gifted and the ugly poncho at least frogged I think I may allow myself to yarn shop... I really want to start on one of the sweaters from Cool Crochet, LOL! I'm so glad to have tomorrow off, I plan to be uber-productive and then spend the weekend with some fun crochet.
LOST - did anyone see LOST last night? I missed most of the beginning and will be watching it tonight after work, but I did catch the last 1/2 hour and I have to say I'm disappointed! Talk about NOT wrapping up a single thing... and now I have to wait and wonder all summer long. Shit. I suspect it all goes back to the comic book, somehow, but I'm not a patient waiter, and I want to know now!! Damn it all to hell.
Okay, gotta run, time for work...