RAOK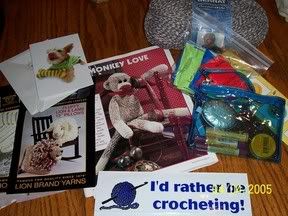 These are all the fun goodies I got today, I forgot to mention the awesome sticker earlier. That one is going right on my school notebook - of course I'd rather be crocheting than sitting thru a lecture!! Or maybe both, but that doesn't fly at my school...
Thank you again, to whoever sent this package! It was totally thoughtful - look at the leaflet on top there, for a crocheted lion pillow... I'll bet it took a little research to put together this bundle!
Well, my pal Rebecca has received her reveal package... I'm so glad she's enjoyed everything, because shopping for her was great fun. This was my first round of secret pals and I've totally enjoyed spoiling her! I hope I don't get in trouble for going over the spending limit... I just couldn't keep it under $25... there was so much I wanted to get... I'm sure it will be the same way next time around, too! I wish the limit was a little higher, but then some people might be hesitant to join and I certainly woudn't want that...
I also got an email from my pal, saying that she hasn't forgotten about me, (I didn't think she had anyway!) and that she'll be starting on my sweater soon. I still can't believe this - a sweater?? How neat is that... I hope it's cute! The yarn she showed me was, it was very me, a boucle with creams and beiges and blues that looked so cozy. I think I've got her figured out, and I can't wait to see what the reveal package will bring... My pal has done her homework and sent things that I've really enjoyed, so I know that this next package will be no exception!
Ro has gotten her pattern for the beautiful butterfly blankie she designed up...here... It's just darling, and I think I *may* try to design a little antennaed hat to go along with it. How cute would that be? Anywho, I think I will have to make one of these soon...