I've been a bad blogger...
Things are crazy for me right now...
We fired a cashier at work, so there's a full 40 hour shift for us to fill in... except we only have five (well, six now) cashiers and three of them are already at 40 hours... I am in school.. and the other part time girl has a 9 mo old... Plus the semester is wrapping up! So things are totally nuts right now, I've actually been working quite a few hours, plus trying to keep on top of school for just one more week til it wraps up... That's kind of a nightmare right now - I just keep avoiding thinking about it, but in the meantime I somehow have to whip up a project for tomorrow, even thoguh I'm working a long shift tonight... And I have to write a 10 page paper for class on Friday that I've not started on - like, I completely have nothing: no notes, no interview, no nothing. PLus I'll be working everyday until Friday, too, ICk. I know I'll manage cuz I always do, but I really stress myself unneccessarily but procrastinating so much.
So, in the free time that I've had, I've been recycling some sweaters for yarn, since my stash consists of mostly winter yarn right now. I've had some cotton sweaters laying around from a Salvation Arny trip a few months ago, and I've finally got to work on frogging them.
I designed a hat with some yarn I got from an Old Navy sweater. I've been told several times I should try selling small clothing items at my work, in addition to the washcloths, so I figured I might as well try it. Since orgainc yarn is pretty expensive and doesn't have the color range I want, I decided I'll use all recycled yarn, that way I'm still being environmentally friendly (which is important at my store.) This is my hat: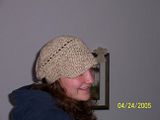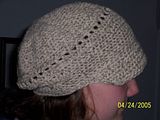 I have a few people trying out the pattern to work out any kinks and then I'll post it here to share. I'm really happy with the way it turned out and I know the style will sell well at my work.
Wish I could post more but I have about a kazillion things to do before 1:30 (work time, yuk!!) so I'll wrap it up now! Hope to be back more often but I see myself being reallu busy these next couple weeks so who knows.