Finito!
I've finally finished the purple blankie! I think it's a little on the small side, but I was so afraid of running out of yarn that I didn't want to make it any larger. The color in this picture is too yellow, the hat is closer to the real thing.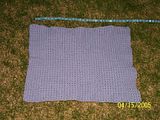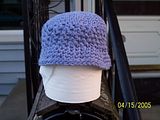 I'm pretty unsure about the hat. I wrote the pattern down, but I'm not sure if it would actually fit a baby... I don't know if it's too cloche-y, or if I should make it floppier... I have it modeled on a roll of toilet paper, LOL (really need to get a head) my guess is the diameter is 6-7 inches, but could stretch some... that seems small to me. Anyone who has kids have any input?? Maybe once I get the pattern typed up someone could try it out and give me some feedback... it only takes a really little bit of yarn and about 45 mintues.
Otay... I'm off... Good night!