Excellent Exposure!!
Attention fellow crocheters!!
Sick of crochet always being associated with lime green granny squares? Tired of having to prove that crochet really is cool???
Pick up a copy of the current issue of
Budget Living
!!
I've been a loyal reader of this mag for about the last two years, and now they gave me another reason to love them even more!! They ran a two page feature on cool crochet titled "Holey Chic! Get hooked on today's crochet" that highlights some great stuff!! Here are pics of the layouts: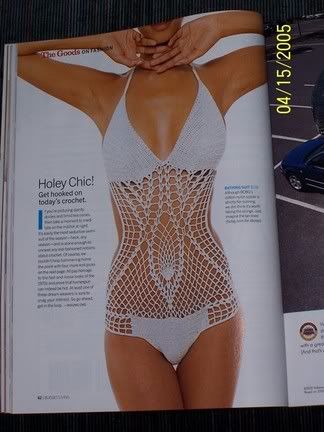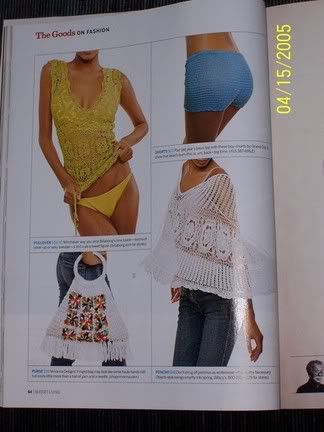 How hot is that bathing suit?!?! (It's from
BCBG's
ready to wear line from this spring) And
this site
that the hot pants came from has so many other gorgeous items, too!! I'm so impressed and inspired by these - when I flipped to this page last night, one of my first thoughts was that I had to share with everyone at
C'Ville
!
Also wanted to show what my uncle has been working on. He's an expert woodworker, and when he saw my
TOTC
hooks he kinda went "Duh! I could make those!" So last week I lent him a couple of my hooks to use for an example and this is what his prototype turned out like: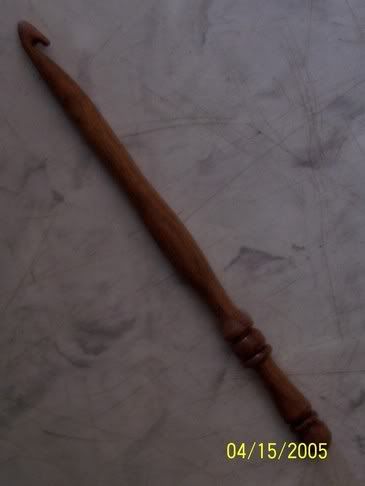 I have to admit, I'm really impressed for that being his first try!! Apparently, he's already had a lady ask how much he'd sell her 100 of them for!! I still love my TOTC hooks dearly, but if I can get some freebies from my uncle then I'm all for it!
I hope everyone has fabulous Fridays! I ended up getting this afternoon off, and Kris gets out early on Fridays, so I'm in a great mood and excited to be spending a beautiful day with my hunny. I've only worked the last four days in a row but I feel totally exhausted - I don't know what I'm going to do when I have to get a real job!!