Whew! So Much to do!
Wow - I've been away from my computer all weekend and I've missed so much!! I haven't done any blog reading/commenting, C'Ville browsing, or any homework for that matter...!
Firstly,
Crochetville
is now live at it's new domain. That's just so exciting, it's nice over there and there are SO MANY new options to consume my time!! I love it, and am so grateful for all the work that the admins,
Donna
,
Tiff
, and
Julie
, have put into the move!! They've done so mcuh to make C'Ville the wonderful community it is!
I was also RAOK'ed again over the weekend! A Super-Duper Fairy sent me a pack of metallic silver Sharpies. Too neat, and they'll have a great home in my every growing collection!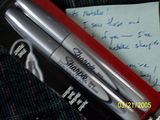 I've been working on some more washcloths for work, and trying pretty unsuccessfully to make some kind of hang tag for them. The owner was in from Texas this past week and made some big changes, like appointing a new general manager. We're all pretty exctied, this guy so good for the store and it's nice he finally got the authority he deserved. Hopefully, many long overdue changes will be made, starting with some choice releases!! (Cue munchkins - "Ding, Dong, the bitch is gone..." LOL!!)
I've done a little shopping for the
Spring Yarn Swap.
My partners are
Marvie
and Fiona. So far I've got them both some of that new Bamboo yarn from JA's, cuz I'm just totally in love with that stuff. (I'm hoping they'll love it too!) But I know I want to send along some nicer, higher-end yarns, too, since it's nice to get stuff you maybe wouldn't buy for yourself. I was thinking a couple skeins each of some nice wool, maybe Lamb's Pride, in some springy colors. That way there would be enough to make a bag or something, but I would stay w/i budget. If I were buying for you, what would you want to receive?
One last thing: Thanks every one for all the happy anniversary wishes! We did end up having a great night, and I even had shot of green apple Pucker for St. Patty's day.
(That's hardcore, I know! LOL!)
Gotta go, time for work!!
Question of the day:
What one thing is most important to you about your sig. other? (or future sig. other, if that's the case...)
Mine is that no matter what, Kris is always supporting me! That's so important to me, I could never be with someone who wasn't totally behind me, and with Kris I know I never have to worry about that. Even when I'm the one who's unsure, he's still totally understanding. *Insert silly smile* He's just so great!