Easter Funny
I was sent this in an email and I thought I'd share the link, since I got such a kick out of it, LOL!
Easter Bunny Funny
Anywho, I feel like I don't have much of interest to write about today!
I started a little ripple blankie last night - It's made of RH super saver in "ocean," a pretty blue/teal/purple varigated color.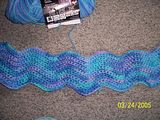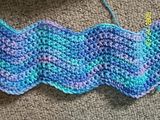 I'm not using a pattern, I just kinda made it up, and I like how it's turning out so far. My only complaint is that it's taking forever, since it's all sc, but I don't like how open dc looks, so oh well!!
I also picked up the new issue of FamilyCircle's "Easy Knitting plus Crochet". It's got a couple cute beachwear patterns, a floppy hat that I'm totally thinking would sell at my work, and a cute miniskirt and halter. It's worth the couple bucks I spent on it, but I have to say the most exciting in the whole issue was an ad!!
It seems that FamilyCircle will be putting out another fiber related magazine, this one called "Easy Crochet!" YAY!!! I'm so excited that there will be another crochet magazine out there, especially one that's not all thread. From what I've seen, the FC patterns seem to be pretty cute, and more items that I'd be interested in, cute clothes and things. It won't be out until August, but that's okay! It will give me something to look forward to - or be surprised about, since I may forget about it by the time it comes out!!
Now it's time for lunch with my hunny, then time to get ready for work... YUK!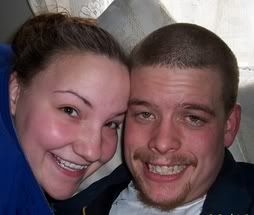 Oops - wait! I forgot about my question! Here it is:
What two sides of your personality are most contradictory??