Sunday, Snowy Sunday...
What a day it has been already!! Kris and I woke up this morning after a nice night of hanging out with friends, to a dusting of snow and a smashed vehicle!! Look: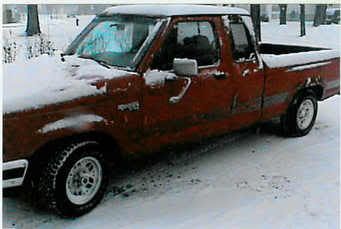 This is his truck, the marks start an inch away from the front bumper and run ALL THE WAY down the side.
Here's where the other car got stuck and pulled back some metal: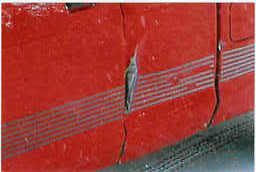 And here's where my hunny's bed was rusting out and is now all screwed up: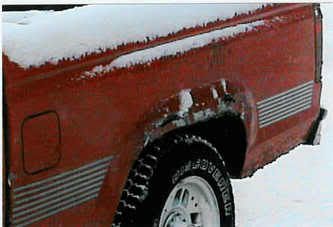 Wanna hear the story? If not, just scroll down, LOL, it might be worth it. ;)
Begin: After freaking out for a mintue or two about his truck being smashed, Kris starts to check out the [extensive] damage. There is blue paint all over his truck, even on the tires and wheels! His mirror is broken, that panel is folded back, all the rusted metal was knocked free, and a piece of his bumper was laying about 5 feet down the road. Luckily, while doing his inspecting, Kris finds a piece of teal plastic from the other car laying on the ground beneath his broken mirror. So, he decides to take me to my house as we'd planned, then come back and make a police report.
Well, as we are pulling away, I remember a teal Cavalier hangs out at house known for making trouble down the street, so I ask him to go in that direction, but we are already headed the other way. He decides to go around the block to turn us around, as the snow has started to pick up and the roads were getting slick. As we are reaching the end of the block and starting to turn, we both happen to see a teal Ford Probe parked out on the street. So Kris backs up the truck and pulls forward to take a look.
Wouldn't you know it, as we pull up to this car we see that it's missing it's drivers side mirror and has red paint all down the side. Plus, the plastic piece we found fit right in among the missing mirror parts! Kris immediately takes down the plate number, and we call the police. They inform us that a hit and run report
was just filed a little while ago for the same car
, and that they were sending an officer right out.
At this point, Kris is all pissed off that this asshole hit his car and is gonna try to deny it. The officer showed up quickly, and we go out to meet her and see what's up. We showed her the damage and she sounded skeptical until I walked up and handed her that plastic piece. Her attitude toally changed, and she took the plastic piece and told us she'd just taken the report for THAT CAR an hour earlier, right down the block! She thanked us and drove right to that house.
Then, a short while later we get a phone call from the police department letting us know that the other car has been impounded, and that the driver's gonna have charges brought against him for both the hit & run and for filing a false police report. Kris is glad that we found the guy and he'll hopefully be getting some money to repair his truck, since he only has liability and not collision insurance.
Here's a picture of him (my hunny, not the perp!). Isn't he such a hottie!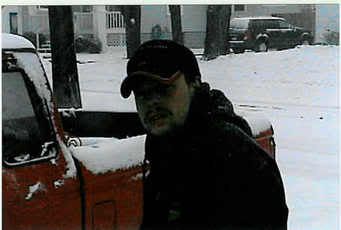 End.
In my crochet world:
I've been working on more little blankies for the CAL. Right now this is what I'm doing, it's a basic granny blanket using leftover Mainstays yarn: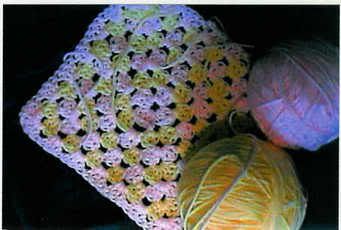 I love how it goes so quickly! I'm hoping I should have it wrapped up by tonight.
These are my two most recently finished hats, and also the blanket I made for the Cuddles project: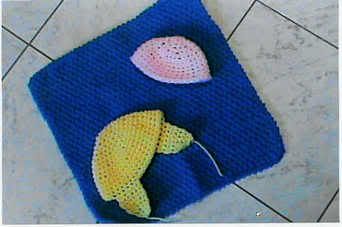 I've really needed to do some stash busting, and this has been helping.
I also picked up a great vintage crochet booklet at the flea market this morning! The vendor had a ton, and it was so hard to choose, but I only had a few bucks, and though some were cute they weren't good for anything but looking at. So, I finally decided on this one,
Style in Crochet and Knitting
, copyright date is 1936: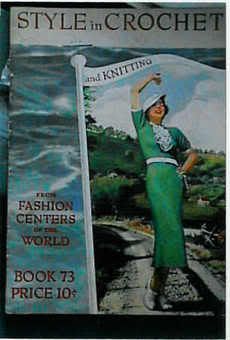 It has a bunch of cute patterns, mostly crochet. There is a great blouse, and a really retro skirt suit that I love. And here's a dress called "The Grecian:"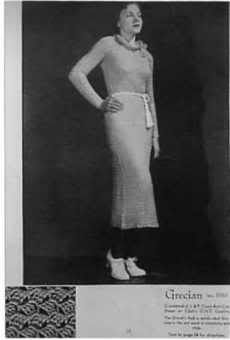 I got an email from my secret pal the other day, and a card with get well wishes. She seems like such a sweetie! I'm so glad I signed up for the secret pals swap, cuz it's so much fun feeling like someone is thinking about me, and also alot of fun plotting surprises for my pal! I've been working on gathering things for her next package, and think I'll send it out around the end of Feb. I got one of her things in the mail the other day, and I'm going to turn in into a little quiz for you guys!
The package I received the other day had the following picture on it's mailing label: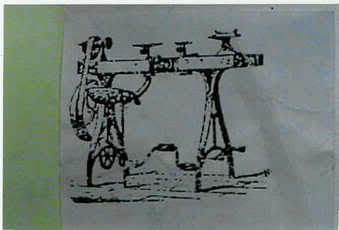 Leave me a comment trying to properly identify where this package came from. If you get it right, I might draw you to win a prize! (Although I don't know what yet, I swear it will be good!)
Have a great day!