Just a quickie
Well, I've been busy crocheting and getting boxes ready to mail these last couple days. I finished up that baby granny 'ghan, the finished size is 24" square.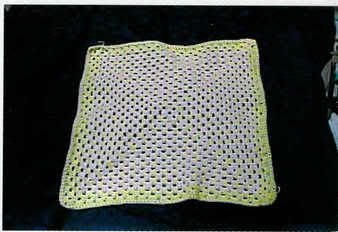 Here's a close up, just in case you've never seen the granny stitch before, LOL...
I've also made great progress on my second blanket for the
Little Blankies CAL
, one made using
Beth's Little Star
pattern. (thanks to
Marvie
for helping out with a link to that pattern!) I really love this blankie, although the way the points are curling makes it looks starfishy, but that's okay!
I'm hoping I will have this finished up by tomorrow, then will start on a lavendar one with more yarn from Bunny's stash. I've decided that these will be going to
Children's Hospital
in Detroit, because that's where I had my surgery when I was a baby! My mom says one of the best pediatric neurosurgeons in the country operated on me there. So, I'm really glad to be sending them my things, thank you so much to
Ro
for hooking me up with an address!
Also...
Congratulations to
Deneen
, who won my first ever blog contest! Not only was she the only one who ventured an answer, but she was correct, too! Her package was one of those that will be mailed out tomorrow, click
here
if you'd like to see what she won! Thanks for playing along, Deneen, I hope you enjoy your prize!
I'll also be mailing out my secret pal's second package tomorrow, but of course, I can't give away details!! I'll just say that I think I had more fun with this box than the last, and I'm sure she will love it! In other secret pal news, I've recently received two lovely letters from my pal, she's just so sweet!! She says her next package is coming soon, and I'm so excited!
Alright, I'm off to float around the 'net a bit before bed, g'nite all!