I hate titles
I can never think of a good title, I always get stumped...
Don't have much to write today...
Went to the big Sal. Army near me to buy some sweaters to frog. They were having a five for $5 sale, so I bought 4 to frog and one to keep, here are the 4 for frogging (more pics
here
):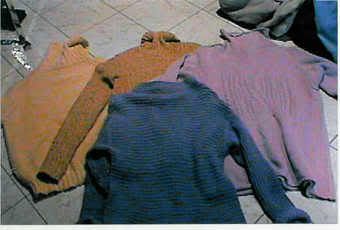 And here's a pic of my hunny and his plow truck during the big snow we had awhile ago, although you can't tell how cute he is: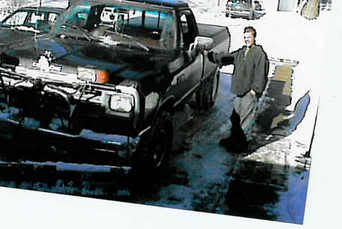 Here's a pair of slippers I made a week or two ago, I've since finished them and am wearing them everywhere. They're from Lamb's Pride, and are so so warm: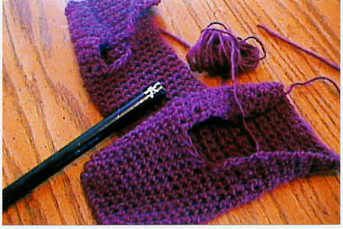 And finally, here is my Lopi bag, but it's really eggplant not black: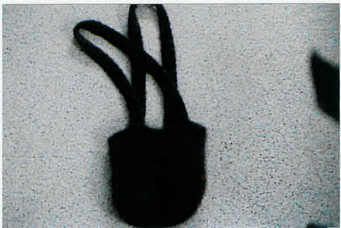 And a close-up of the dandruff problem (also closer to real color):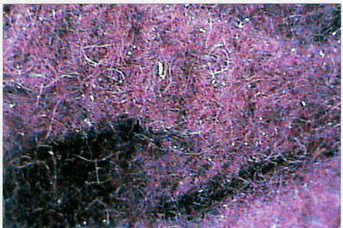 My pal has emailed me to let me know I have a package on the way, I'm so excited! I can't wait to see what kind of goodies she's chosen for me, I'm sure I'll love them!!
And speaking of mail,
Dawn
- I sent a package to you today, let me know when you receive it! I hope you like-y!
For some reason these last two days or so I've felt particularly loved... It's hard to explain but I just feel like there are people who care about me and it's really nice. LOL, it's cheesy, I suppose, but Kris has done some super sweet things lately, my sis and I hung out (which we NEVER do, aren't quite old enough to get along yet), I got back in touch with an old, wonderful friend whom I've missed so much, I've had some great emails and notes from great people... Just makes me feel all warm and fuzzy inside, y'know? It's a good feeling.
Guess I'll stop there, that's a nice place to end. G'nite all.