Fun Day!!
Oh man, today was such a great day!! What a change from the funk I have been in lately...
It was sunny and warm today, it got over 40 degrees and right now that is warm!! I was so excited I drove around with my window down (not all the way, though). Kris' bed was delivered first thing this morning, and we've got it moved into the new bedroom and are all set up - it's so comfortable and looks so nice!! I love the colors we used in the new bedroom: khakis, blues, and greens. It's really nice and manly, LOL.
I also made my first sale today, YAY, for that army green hat I showed last week. Paul, the recipient, gave me 20 bucks for it today. I was so excited! Plus, I can always use an extra $20, it was like bonus cash since I was not expecting to be paid.
Then, I got home from a good day at work to find a fat envelope waiting for me in my mailbox!!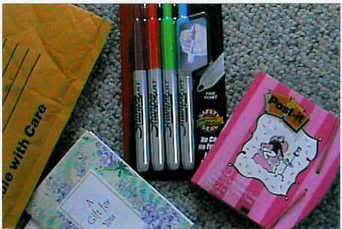 An unidentified fairy sent me a four pack of the new clickie Sharpies in neon colors, and the cutest little Post-It pack I have ever seen! I 've never said I love Sharpies, but I do SO much! I used to carry the whole rainbow of them in my backpack during H.S.! I've been wanting some of the clickie ones, too! And here's the inside of the Post-Its: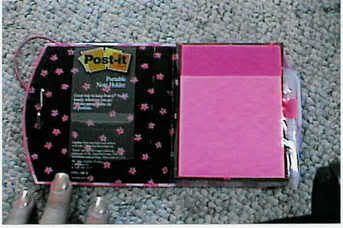 I just love things that come in cute packages, even better if they're office supplies! This has got a pad of the page markers and a pad of the full sized Post-Its. It's adorable and practical all in one! I don't know who you are, Fairy, but thank you so much! These are wonderful gifts, and it really makes me feel so special! I just am so thrilled. I was like a little kid - "look what I got hunny!! Someone sent me Sharpies!! and isn't this cute?!?"
Insert hunny trying not to roll eyes at me...
And now I get to pay it forward! That's exciting too, and an ideal time since I have that spare $20... On a related note, I've seen that some of the people I've sent stitch markers to have received them, and I'm so glad! It's great fun to brighten someones day a little, mine has certainly been brightened a great deal by the kindness of someone else, and I love that I can pass that feeling on!
Here's the yarn that I got yesterday: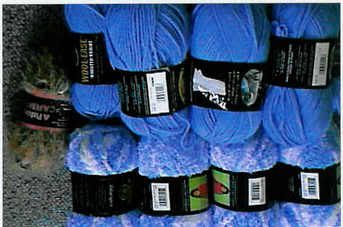 I can't wait to play with the Carmen, but I didn't finish as many hats as I wanted to, I only got two done, so I am doing nothing but HATS til the end of next week, when I'll go to the shelter and drop them off. (By the way, Ro, I did see your question, I'm pretty sure the official name of the shelter is the South Oakland [Cnty?] Shelter, but I will find out for sure on Monday and get you some contact info. Where in MI are you?)
Finally, this is a picture of the lovely package I got from
Dawn
a couple weeks ago: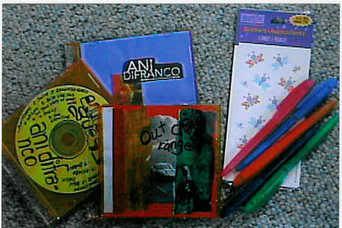 I've been listening to the CDs almost nonstop since I got them, and love these pens, they write so smoothly!
I also wanted to say thank you to those who have kind and thoughtful comments these lasr few posts. I really appreciate it!
Now, I'm off to go enjoy that new bed... :D