Catching up!
I've gotten pretty far behind with posting, mostly because I was held up by pictures... Due to mine own laziness, of course! I just hadn't hauled my butt to CVS to get pics, I was actually scheduled three days in row this week so I stalled, then Saturday I was sick and slept allllllll day long!! Finally, today I finished my math exam and went to CVS, and waited for 45 minutes for this dumbass lady to finish using the stupid photo thing. I'm pissed I had to wait, plus two pics I thought I'd saved I apparently didn't, so I didn't get those...GRR!
Anyways, here's the lovely package I got from my pal last week: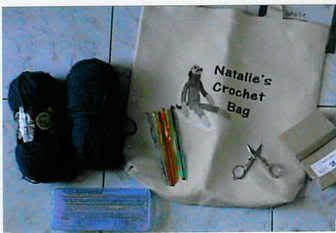 I can't explain how delicious the tea she sent is! And I've gotten so many compliments on the tote bag, it's so cute! Thanks Pal, the whole box full was wonderful and I loved it all!
I finished up some little things that have been hanging over my head this weekend, like this scarf I started before Christmas for my cousin Michelle: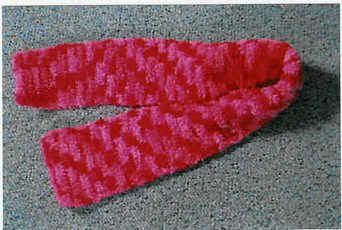 I got about 2/3 done and ran out of yarn, and both my JA's and Michael's have been out of that color PolarSpun since last week! So I finally bought another ball and finished that up, just in time for her 6th birthday this weekend. The PolarSpun was a pain to work with, but I LOVE how soft it is, and want to make a pillowcase in the delft color to match my room...
I also finished this hat I've been working on for one of the stock guys at my work: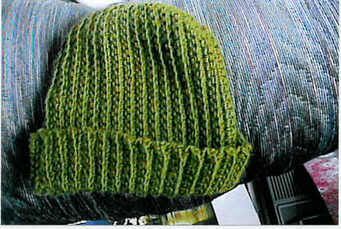 It's made out of lamb's Pride Worsted in Oregano, and will match the scarf I made him for Christmas...it turned out really nice, not as bulky as the one I made for myself, and I decided I'm going to do my charity hats with this pattern. I've FINALLY got one started, and am about halfway done, it will be a little girl's since I used some left over pink Mainstays yarn. I'm hoping to have at least five done by next week, and I will drop them off at the shelter I pass on the way to school.
I also finished up a project I've been working on for my secret pal, although I don't want to post pics in case it would spoil my surprise. It was something new for me though, and I'm happy with how it ended up. I know I'll be trying it again! I can't explain the joy I'm getting from plotting her gifts, it's just so much fun to get things that I know will make her happy!
Saturday I was all sick and pukey... left work early cuz I felt like shit, and came home to a big envelope stuffed in my mailbox! It was a package from
Dawn
that I wasn't expecting til next week! She sent me THREE Ani DiFranco CDs, which I have been listening to and loving!!! (My boyfriend not so much, but oh-well!) She also included a pack of neon colored pens that write beautifully, and some adorable little butterfly stickers! Dawn is so sweet for putting together these CDs after reading a comment I left at her blog, and I'm so glad she did because I'm really enjoying them. Unfortunately, one of the pics my camera ate was the one of her gifts, so you can just imagine til I get one, right?
Superbowl Sunday was fun, I guess. I'm not a football fan at all, but I watch and laugh at the commercials! There was a get together down at Kris' grandpa's, and that was nice, except for his Aunt Cheri, who's insane... She just says the most rude/hurtful/uncalled for/inappropriate things to everyone, by the end of the night the whole family is ready to jump down her throat. Thankfully we left about halfway thru the first quarter! Grandpa also gave me some more of Bunny's books and crochet things that he'd dug up from somewhere, there are some older Magic Crochet issues and two LA "A Year of Afghans" books, which have a lot of nice patterns. (The other pic that disappeared!) It's so nice that they feel I am enough a part of the family to have some of her things!
The last thing I did this weekend was make stitch markers... I made about five sets to send out as RAOKs, and got them off today. I know they're not big, but it does feel nice to get some gifts out. I think the "pay it forward" idea is great, and that's what I'll be doing, but since these are so small I figured I would just go ahead and send them, and not wait to be gifted, y'know?
I'm off for now, I think I'm gonna go browse thru my books, cuz I want to get a few more afghans done before it starts to warm up. I also HAVE to finish my charity hat tonite, and hopefully start #2...