Secret Pals!
Well, we've all received our Secret Pal assignments from
Tiffany
! I'm so excited about who my secret pal is, because I think she will be both fun and challenging to shop for. I already have a few gifts in mind, and I can't wait to get together her first package, I just have to wait 'til I get some money...
Hopefully that will be soon, since my financial aid DID go thru, and my school should be sending my reimbursement check any day now. Plus, I filed my federal taxes Friday before last, and that should get direct deposited right into my account soon too. (I know I'm really early, but I waited so long to file last year, I figured I would beat the rush this time around!)
Anyways, the person who has my name has already contacted me! I received a nice long email from her earlier today, and I'm so excited! It sounds like whoever she is will be really spoiling me, I can't wait. By the way pal, I forgot to mention, I love anything that comes in a neat package. I buy rediculous things cuz they come in cute boxes or tins...
I have to leave now for work, but before I go here are a few more pictures: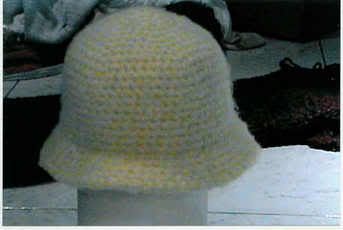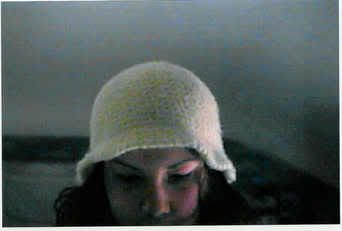 This is a hat I made from 2 strands LB Fisherman's Wool with 8mm and 10mm hooks. I used the Homespun Cloche pattern from LB's site, with a few modifications. I ran it thru a hot/cold wash for one full cycle with a healthy splash of vinegar and 2 pairs of shoes, and I love the way it turned out, it fits perfectly!