Lazy Hump Day
Well, today is my day totally off, no work or school! So I've been a lazy bum all day, it's 3:30pm and I still haven't showered! In fact, all I've done today is sleep, eat and get my nails gone, LOL. I love getting my nails done, I think I'm gonna stick with it. It's so nice to get pampered a little! But I think I'm gonna have to start buying my own polish, I'm sick of their pinks and I refuse to put any dark colors on my nails... just another thing to collect, I suppose!
I forgot to mention my "getaway" with Kris this weekend! Well, not really a getaway, since the foot of snow we had ruined his plans. I guess he was going to take us up north to his best friend John's cottage, with John and his wife and another couple we know, but Kris and John both plow snow so those plans were fudged right away on Friday! So, instead, we went to the
North American International Auto Show
(NAIAS) on Friday evening with my dad. I've gone almost every year since I was little, I guess that's just what you do if you live near Detroit. It's always fun to see what new cars they're all coming out with and get a look at the concepts, those are my favorite. This year I was blown away by the new Carol Shelby/Ford collaboration, the concept
GR-1
.
Shelby
is an automotive genius, and my goal is to one day own a 427 Cobra, which I've loved since I was like 6 yo.
Anyways, the car show was fun, then on Saturday all we did was plow snow, and then plow more snow... Later, Kris took me to dinner at our favorite hole-in-the-wall Coney, and he rented a hotel suite with a Jacuzzi, which was sooo nice after sitting in the truck all day. So, although it wasn't exactly the getaway he was hoping for, it was still really romantic and sweet, and I had a great time relaxing and hanging out with my sweetheart!
Well, I already have a list of potential gifts for my secret pal, plus she's dropping hints and has mentioned some things she wants. This is so much fun, I love sleuthing around for things that I think she might like! I've decided Friday I'll go shopping since I need to buy myself some things anyways, and I'll get some stuff together for her first package.
On the crochet front, I haven't even picked up a hook today! Like I said, I'm being rediculously lazy... Although, once I shower, which I swear I will do soon, I'm going to work on the sides of the bag I started with my Reynold's Lopi wool. It's a deep eggplant color which I don't usually wear but couldn't resist, and I've got the bottom done and now am going to work in rounds til it reaches a height I like. Then I'm going to full it, and line it with a cute khaki and eggplant colored paisley fabric I saw at JA's. I guess I should get to crocheting first, tho.
I re-covered my first couch over the weekend, too! I was so proud of us. Me and Ashley, who is Kris' little brother's girlfriend, and who was my best friend from K to about 11th grade, re-covered their loveseat with some vinyl leather look-alike fabric we bought at JA's for like $4/yd, plus the 40% off coupon. We spent less than $20 on the fabric, and what used to be the crappiest-looking little couch now looks like a nice leather one to the untrained eye. We had to use a staple gun, and since we both didn't want to sew there are a few visible staples if you look closely, but it looks a million times better and has encouraged me to finally buy some padding and fabric to re-cover Kris' Frasier chair. (Y'know, the ugly yellowish one with duct tape? I swear Kris has the exact same one, and he refuses to toss it cuz "it's comfy!")
Oops! What I intended to be a short post has turned into a ramble, so I'll stop here with a pic: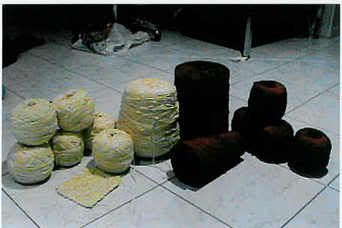 This is all the yarn I received from Fiber Options, and how much I've (manually) wound so far.