Bunny's Things
Kris's grandmother, Bunny, passed away a couple months ago. She was an avid crocheter, and just a few days ago, Kris's grandpa told me to look thru her crochet stuff, and see if there was anything I could use. So, we went over there today, and I came out with a whole box full. Lots of acrylic yarns, as she made alot of afghans, some hooks and a few knitting needles, and alot of old pattern booklets and magazines. One magazine has the patterns for this beachwear: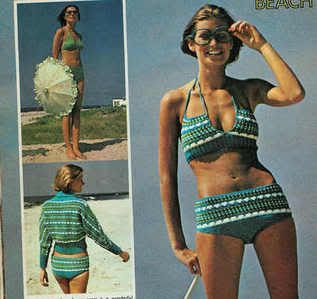 It's also got some great cloche and skully style caps... and then there's a whole stack I've not even touched yet, including the LA book A Year of Afghans,1998 I think...
I'm so touched that they gave me her things. In one box there was an afghan that's almost finished, so I'm going to finish up the row, tie it off and throw it in the wash to soften it up a bit. It will be nice to have one more afghan from Bunny around the house.